2005-9, Scott 3433-34 Paintings (Jointly Issued by China and Liechtenstein)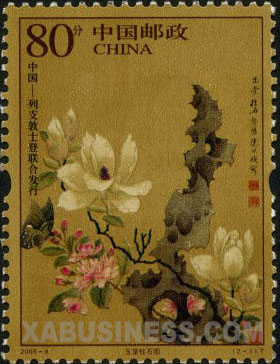 (2-1), Magnolia Flowers, 80 fen, 30*40 mm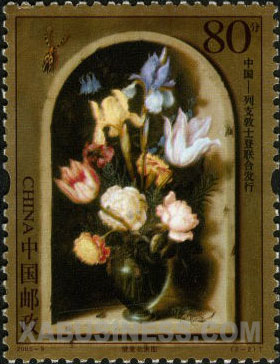 (2-2), Flower Vase in a window Niche, 80 fen, 30*40 mm
Technical details
Scott No: 3433-34
Serial number: 2005-9
Values in set: 2
Date of issue: May 18, 2005
Denomination: 160 fen
Designer: Li Qingfa
Size of stamps: 30*40mm
Perforation: 12.5
Sheet composition: 8
Printing process: Photogravure
Printing House: Beijing Postage Stamp Printing Works
Background
The paintings Magnolia Flowers and Flower Vase in a window Niche, both from the 17th century, are in the Palace Museum of China and the Liechtenstein Museum respectively. Mognolia Flowers is a representative work of Chen Hongshou, a Ming-dynasty artist in China, in his later life, which features neat and ingenuous strokes, talented composition and bright colors. Flower Vase in a Window Niche by Ambrosius Bosschaert, a well-known still-life painter from Europe, shows flowers of different seasons in full blossom. He displayed the ideal condition of flowers and opened a new era of paintings of flowers and plants. The two paintings used in the stamp design, which are both rare cultural treasures, show the different traditions and cultures of the Eastern and Western civilizations.
Share:

Price List
Item location: China
Ships to: Worldwide
*Shipping (via registered air mail) is based on subtotal of order. See detials below.
| | |
| --- | --- |
| Order Subtotal | S & H |
| $0.01---$15.00 | US $5.00 |
| $15.01---$50.00 | US $6.00 |
| $50.01---$100.00 | US $7.00 |
| $100.01---$180.00 | US $8.00 |
| $180.01---over | US $9.00 |
* 1) for special items shipping and handling cost may be included. 2) Other fast shipping is available.
To special order, please
let us know
what you are looking for. We will help you to meet your unique interests.