2005-10, Scott 3435 The Plage Scene Of Dalian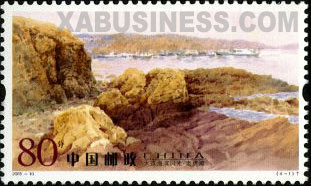 (4-1), Tiger Beach, 80 fen, 50*30 mm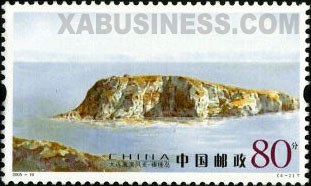 (4-2), Bangchui Island, 80 fen, 50*30 mm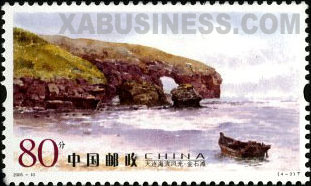 (4-3), Golden Pebble Beach, 80 fen, 50*30 mm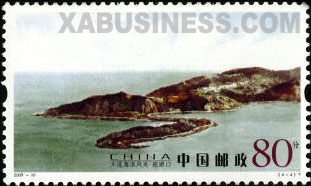 (4-4), Lushunkou, 80 fen, 50*30 mm
Technical details
Scott No: 3435
Serial number: 2005-10
Values in set: 4
Date of issue: May 21, 2005
Denomination: 320 fen
Designer: Jiang Zhinan
Size of stamps: 50*30 mm
Perforation: 13
Sheet composition: 8 (2 sets)
Printing process: Photogravure
Printing House: Beijing Postage Stamp Printing Works
Background
Dalian is located on the southern tip of the Liaodong Peninsula, Liaoning Province, flanked by the Yellow Sea in the east and Bohai Sea in the west. Its seashore, consisting of the Dalian Bay and Lushunkou, is one of China's famous tourist resorts, blessed with enchanting scenery and pleasant climate. One will enjoy the view of many islets and jagged reefs in the surging green waves as well as the horizon where the blue sea meets the sky. The major scenic zone, the Tiger Beach, is surrounded by hills on three sides, and the precipitous peaks and cliffs look like fierce tigers crouching around the beach .The Bangchui Island boasts picturesque scenery . The marine abrasion reefs in the low part of the Golden Pebble Beach are reputed as "stone forest on the sea".Lushunkou with a winding coastline and beautiful scenery is a well-known naval port.The blue sea and sky, green hills, natural bathing beaches and splendid scenic spots constitute the charming seashore of Dalian.
Share:

Price List
Item location: China
Ships to: Worldwide
*Shipping (via registered air mail) is based on subtotal of order. See detials below.
| | |
| --- | --- |
| Order Subtotal | S & H |
| $0.01---$15.00 | US $5.00 |
| $15.01---$50.00 | US $6.00 |
| $50.01---$100.00 | US $7.00 |
| $100.01---$180.00 | US $8.00 |
| $180.01---over | US $9.00 |
* 1) for special items shipping and handling cost may be included. 2) Other fast shipping is available.
To special order, please
let us know
what you are looking for. We will help you to meet your unique interests.