How to buy
It is easy to purchase stamps from xabusiness.com. Just follow the steps below to make purchases.

1. Place an order

There are 2 ways. You can place your order by email or our shopping cart system.

- By email

You can send us a list of the items you wish to buy. And the email should also contain your name, shipping address, phone number, email address and payment method. Please send your email to sales xabusiness.com. Once you have placed an order through email, your order will be confirmed within 24 hours by us. This step is very important , generally we will send you our confirmation with payment and shipping informations except in some special cases.

- By shopping cart

It's easy to place an order by our shopping cart.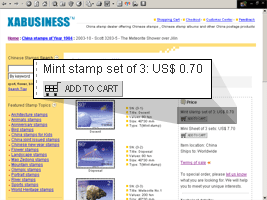 Open the page of the item you plan to order, add to cart.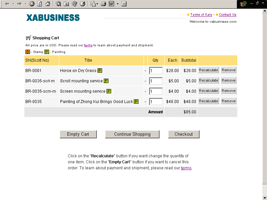 After selection, checkout.

When you checkout, you will be given an order ID, you could use this order ID to check your order status at any time, and you are required to fill personal informations (name, address, email, phone number and payment way) in the checkout form.


2. Payment

We accept payment in
USD,

EUR,

AUD,

CAD,

CNY, and payment can be made by Visa Card, MasterCard, Paypal, Western Union Transfer and Bank Transfer. More details about payment please read our terms of sale.

Order via shopping cart, if you select to pay with credit card or paypal account, just following the system to complete payment online. To pay with other ways, need to handle by mannul to exchange payment info.


3. Shipping

Shipping only begins upon clearance of total payment. Multiple purchases to same shipping address will be combined to save costs for you.

We use the below shipping methods :

Registered air mail
EMS of China Post

Insurance is optional and recommended for purchases over $400.00. Insured shipment (some countries or areas are not available, more details please contact us) charges a premium of 3%.

Please click to get shipping cost and more details about shipment.

The actual time taken will depend on shipping destination.




More questions or need our help please feel free to contact us