2005-13, Scott 3438-39 The 600th Anniv. of Zheng He's Voyages to Western Seas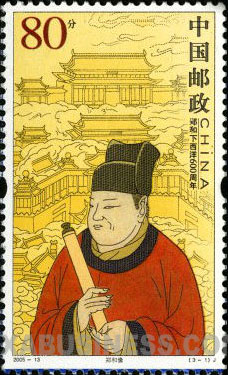 (3-1), Portrait of Zheng He, 80 fen, 50*30 mm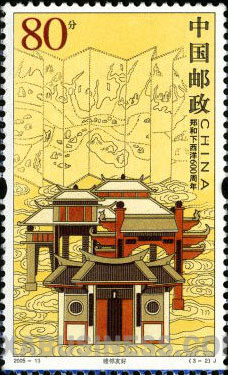 (3-2), Good-Neighborly Relations, 80 fen, 50*30 mm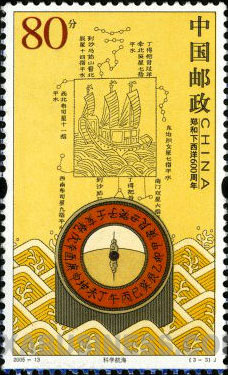 (3-3), Scientific Navigatioin, 80 fen, 50*30 mm
Technical details
Scott No: 3438, 3439
Serial number: 2005-13
Values in set: 3
Date of issue: June 28, 2005
Denomination: 240 fen
Designer: Cui Yanwei
Engraver: Li Qingfa(1) , Jiang Weijie (2, 3), Hu Zhenyuan(S/S)
Size of stamps: 30*50 mm
Size of S/S stamp: 70*50 mm
Size of S/S: 138*80 mm
Perforation of stamp: 13.5
Perforation of S/S: 13*13.5
Sheet composition: 9(3 sets)
Printing process: Engraving and offset
Printing House: Beijing Postage Stamp Printing Works
Background
On 28 June 2005, the State Post Bureau will issue a three-piece set of commemorative stamps, "The 600th Anniv. of Zheng He's Voyages to Western Seas", with a total face value of 2.40 yuan. A souvenir sheet was issued at the same time, with a face value of 6 yuan. The pictures on the stamps are:"Portrait of Zheng He", "Good-Neighborly Relations", and "Scientific Navigatioin", respectively, and the souvenir sheet is titled "The 600th Anniv. of Zheng He's Voyages to Western Seas".
Zheng He (AD1371---AD1433), a native of Kunyang Prefecture (the present Jinning County in Kunming), Yunana Province, was a world-famous navigator in history. From 1405 to 1433 (in the Ming Dynasty), Zheng He led his huge fleet to travel across the high seas 7 times. This great undertaking in world navigation history demonstrated the advanced shipbuilding and navigation technology of ancient China, as well as the Chinese people's braveness in exploratioin, dauntlessness and persistence in the face of difficulty and adversity, and traditional love for peace and friendship with the neighboring countries. The commemoration of the great historical voyages to western seas is of great significance in promoting the Chinese national spirit and building a harmonious society.
Share:

Price List
Item location: China
Ships to: Worldwide
*Shipping (via registered air mail) is based on subtotal of order. See detials below.
| | |
| --- | --- |
| Order Subtotal | S & H |
| $0.01---$15.00 | US $4.00 |
| $15.01---$60.00 | US $5.00 |
| $60.01---$100.00 | US $6.00 |
| $100.01---over | US $7.00 |
* 1) for special items shipping and handling cost may be included. 2) Other fast shipping is available.
To special order, please
let us know
what you are looking for. We will help you to meet your unique interests.