2005-18, Scott 3452-3 Waterwheel and Windmill (Jointly Issued by China and the Netherlands)

(2-1), Waterwheel, 80 fen, 40*30 mm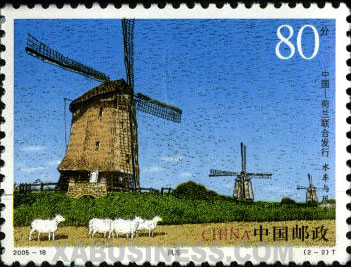 (2-2), Windmill, 80 fen, 40*30 mm
Technical details
Scott No: 3452-3
Serial number: 2005-18
Values in set: 2
Date of issue: September 22, 2005
Denomination: 160 fen
Designer: Ma Gang
Size of stamps: 40*30 mm
Perforation: 12
Sheet composition: 8
Size of sheet: 184*120 mm
Printing process: Photogravure
Printing House: Beijing Postage Stamp Printing Works
Background
Waterwheel and windmill are the earliest machines operated by the power of natural forces. Waterwheel is a tool to hoist water for irrigation. China was the first in the world to make and use waterwheels. Historical records show that as early as in the Han Dynasty (206 BC - AD 220) waterwheel was used for irrigation, operated by wind or water. Standing by a river or a stream, waterwheel, its vanes driven by the flow of water, revolved slowly, lifting water to irrigated farmlands. Windmill is a mechanical device powered by natural wind. The Netherlands is located in the westerlies of the earth, where wind blows all year wound. From the 15th to the 18th century, the Netherlanders built a lot of windmills for land reclamation and processing industry. So the country won the name "Land of Windmills". As a symbol of the Netherlandish culture, windmill is still deeply loved by the people of the Netherlands.
Share:

Price List
Item location: China
Ships to: Worldwide
*Shipping (via registered air mail) is based on subtotal of order. See detials below.
| | |
| --- | --- |
| Order Subtotal | S & H |
| $0.01---$15.00 | US $5.00 |
| $15.01---$50.00 | US $6.00 |
| $50.01---$100.00 | US $7.00 |
| $100.01---$180.00 | US $8.00 |
| $180.01---over | US $9.00 |
* 1) for special items shipping and handling cost may be included. 2) Other fast shipping is available.
To special order, please
let us know
what you are looking for. We will help you to meet your unique interests.