2005-23, Scott 3458-9 Leopard and Cougar (Joint Issue of China and Canada)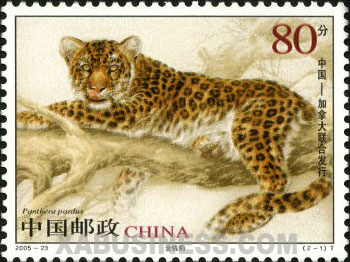 (2-1), Leopard, 80 fen, 40*30 mm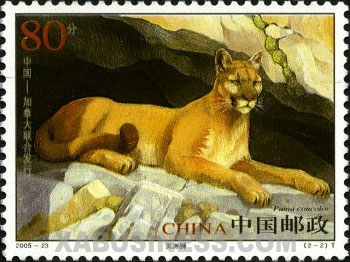 (2-2), Cougar, 80 fen, 40*30 mm
Technical details
Scott No: 3458-9
Serial number: 2005-23
Values in set: 2
Date of issue: October 13, 2005
Denomination: 160 fen
Designer: Liu Jibiao, Keen Martin
Size of stamps: 40*30 mm
Perforation: 13*13.5
Sheet composition: 8
Size of sheet: 128*194 mm
Printing process: Photogravure
Printing House: Beijing Postage Stamp Printing Works
Background
Leopard and cougar are both meat-eating large members of the cat family, more than one meter long, with round head and short ears. They live in all kinds of environments, from hills to forests and bushes. Being ferocious by nature and agile in movement, they hunt a wide varity of animals as their prey. Originated in Asia and Africa, Leopards are widely distributed in China. The coat of leopard is light brown, and it is marked with broken circles of black spots. The cougar is tan colored, whose tail is black at the end. The distribution of cougars extends from south Canada to South America. It is known as the symbol of America.
Share:

Price List
Item location: China
Ships to: Worldwide
*Shipping (via registered air mail) is based on subtotal of order. See detials below.
| | |
| --- | --- |
| Order Subtotal | S & H |
| $0.01---$15.00 | US $4.00 |
| $15.01---$60.00 | US $5.00 |
| $60.01---$100.00 | US $6.00 |
| $100.01---over | US $7.00 |
* 1) for special items shipping and handling cost may be included. 2) Other fast shipping is available.
To special order, please
let us know
what you are looking for. We will help you to meet your unique interests.