2005-12, Scott 3437 Andersen's Fairy Tales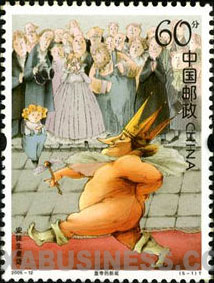 (5-1), The Emperor's New Clothes, 60 fen, 33*44 mm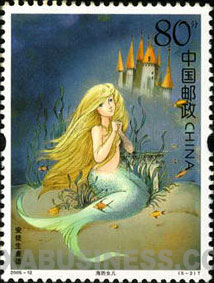 (5-2), The Little Mermaid, 80 fen, 33*44 mm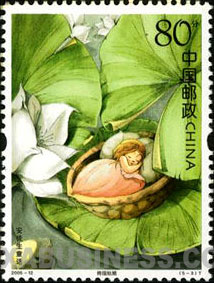 (5-3), Thumbelina, 80 fen, 33*44 mm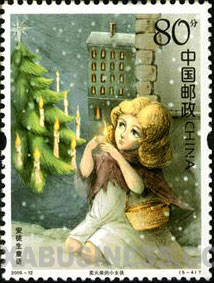 (5-4), The Little Match-seller, 80 fen, 33*44 mm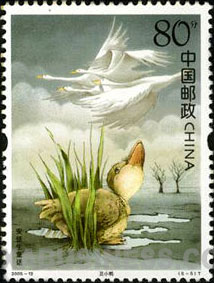 (5-5), The Ugly Duckling, 80 fen, 33*44 mm
Technical details
Scott No: 3437
Serial number: 2005-12
Values in set: 5
Date of issue: June 1, 2005
Denomination: 380 fen
Designer: Qiong Liang
Size of stamps: 33*44 mm
Perforation: 13.5
Sheet composition: 10 (2 sets)
Printing process: Photogravure
Printing House: Beijing Postage Stamp Printing Works
Background
On 1 June 2005, the State Post Bureau will issue a five-piece set of special stamps, "Andersen's Fairy Tales", with a total face value of 3.80 yuan. The pictures on the stamps are entitled "The Emperor's New Clothes", "The Little Mermaid", "Thumbelina", "The Little Match-seller", and "The Ugly Duckling", respectively.
The year 2005 marks the 200th birth anniversary of the world-famous fairy-tale writer Hans Christian Andersen. Born in 1805 in Odense, Denmark, Andersen wrote a lot of works including poems, plays and novels, but is best known for his 168 fairy tales. Sympathizing with the unfortunate poor and appreciating goodness and purity, Andersen depicted in his beautiful fairy tales the happiness, bitterness and sadness of human life, exposed the evils in the money-dominated society, mocked the rulers' arrogance and foolishness and their followers' disgusting flattery, and encouraged pursuit of freedom and a bright future. With rich imagination, vivid plots and simple language, his works are still read and told by adults and children all over the world and remain bright and dazzling in the treasury of world literature.
Share:

Price List
Item location: China
Ships to: Worldwide
*Shipping (via registered air mail) is based on subtotal of order. See detials below.
| | |
| --- | --- |
| Order Subtotal | S & H |
| $0.01---$15.00 | US $5.00 |
| $15.01---$50.00 | US $6.00 |
| $50.01---$100.00 | US $7.00 |
| $100.01---$180.00 | US $8.00 |
| $180.01---over | US $9.00 |
* 1) for special items shipping and handling cost may be included. 2) Other fast shipping is available.
To special order, please
let us know
what you are looking for. We will help you to meet your unique interests.