2005-7, Scott 3431 The Jigong Mountains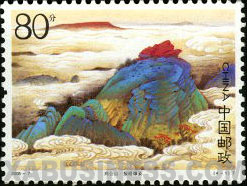 (4-1), Heralding the Break of Day, 80 fen, 40*30 mm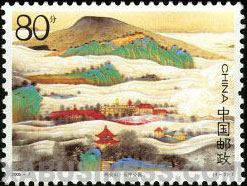 (4-2), Garden in the Clouds, 80 fen, 40*30 mm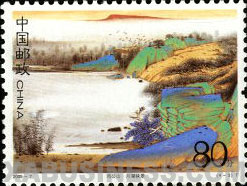 (4-3), Moon Pond Mirroring Green Trees, 80 fen, 40*30 mm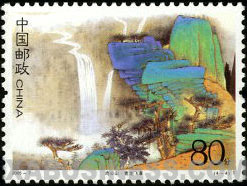 (4-4), Black Dragon Waterfull, 80 fen, 40*30 mm
Technical details
Scott No: 3431
Serial number: 2005-7
Values in set: 4
Date of issue: April 28, 2005
Denomination: 320 fen
Designer: Qi Enjin
Size of stamps: 40*30 mm
Perforation: 12.5
Sheet composition: 8 mint(2 sets)
Printing process: Offset
Printing House: Henan Post & Telecommunications Printing Works
Background
The Jigong Mountains, located south of Xinyang, Henan Province, are a branch of the Dabie Mountains. The main peak "Rooster's Head", also known as "Peak of Heralding the Break of Day", stamds higher than all the other peaks. The Linghua Mountain and Changling Ridge flank it like a rooster's wings. The mountains form the shape of a crowing rooster, hence the name. Most part of the mountains are round in shape, displaying a unique natural landscape. This area is a kwy natinal scenic area and nature reserve, blessed with abundant rainfall, lush, diversified vegetation, rare birds, beautiful scenery, and peaceful valleys dotted with foreign style villas.
Share:

Price List
Item location: China
Ships to: Worldwide
*Shipping (via registered air mail) is based on subtotal of order. See detials below.
| | |
| --- | --- |
| Order Subtotal | S & H |
| $0.01---$15.00 | US $5.00 |
| $15.01---$50.00 | US $6.00 |
| $50.01---$100.00 | US $7.00 |
| $100.01---$180.00 | US $8.00 |
| $180.01---over | US $9.00 |
* 1) for special items shipping and handling cost may be included. 2) Other fast shipping is available.
To special order, please
let us know
what you are looking for. We will help you to meet your unique interests.