2005-4, Scott 3421-24 Yangjiabu Woodprint New Year Pictures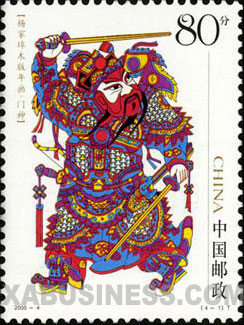 (4-1), Door-god, 80 fen, 30*40 mm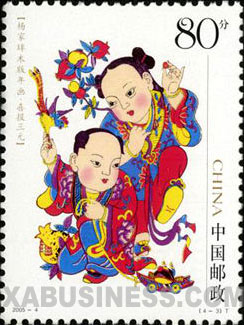 (4-2), Always profit remains year after year, 80 fen, 30*40 mm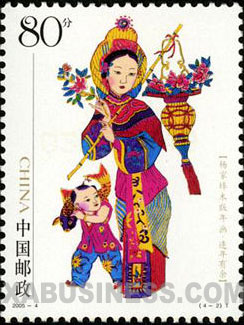 (4-3), Great remarkable accomplishment, 80 fen, 30*40 mm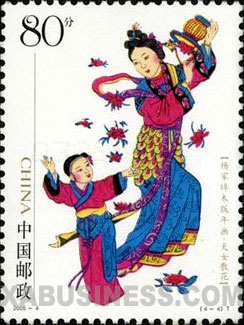 (4-4), Shattering flowers, 80 fen, 30*40 mm
Technical details
Scott No: 3421-24, 3424a
Serial number: 2005-4
Values in set: 4
Date of issue: February 1, 2005
Denomination: 320 fen
Designer: Wang Huming
Size of stamps: 30*40
Perforation: 13.5*13
Sheet composition:
Sheet I 8 mint, 180*104mm;
Sheet II 8 mint(2 sets), 120*210mm
Size of M/S: 150*90mm
Printing process: Offset
Printing House: Beijing Postage Stamp Printing Works
Background
Yangjiabu Woodcuts represent a famous style of Chinese New Year pictures. They originated from the Yangjiabu Village to the northeast of Weifang, Shandong Province at the end of the Ming Dynasty, and thrived in the Qing Dynasty, when there were over 100 workshops producing copies of more than 1,000 pictures. Almost all households in the village were engaged in the production. Mainly produced by block printing in red, green, yellow and purple, Yangjiabu New Year pictures combine the lively and simple style of the northern art and the elegance of the southern art. The myriad of subjects, ranging from images of immortals to flowers, birds and operas, are from the everyday life of the people. They have been popular among the Chinese people for over 400 years for the unaffected portraits, auspicious implications, festive colors and a local flavor.
Share:

Price List
Item location: China
Ships to: Worldwide
*Shipping (via registered air mail) is based on subtotal of order. See detials below.
| | |
| --- | --- |
| Order Subtotal | S & H |
| $0.01---$15.00 | US $4.00 |
| $15.01---$60.00 | US $5.00 |
| $60.01---$100.00 | US $6.00 |
| $100.01---over | US $7.00 |
* 1) for special items shipping and handling cost may be included. 2) Other fast shipping is available.
To special order, please
let us know
what you are looking for. We will help you to meet your unique interests.