2001-9, Scott 3108-09 Pottery and Porcelain (Jointly Issued by China and Belgium)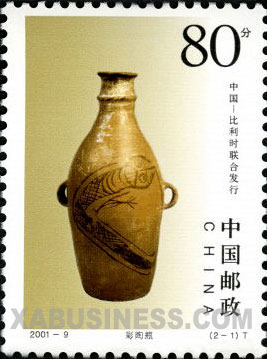 (2-1), Color Pottery Vase, 80 fen, 30*40mm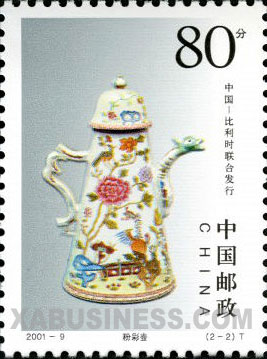 (2-2), Tea Pot with Mixed Glaze, 80 fen, 30*40mm
Technical details
Scott No: 3108-09
Serial number: 2001-9
Values in set: 2
Denomination: 160 fen
Date of issue: 12 June 2001
Designer: Ren Guoen
Size of stamp: 30*40mm
Printing process: gravure
Printer: Beijing Postage Stamp Printing House
Background
Both pieces were produced in China.The vase is of red clay pottery, its belly painted in black with the design of a salamander with a human face.It belongs to the Majiayao Culture during the New Stone Age.The tea pot of mixed glaze,in western style both in shape and in decorative design,is an example of its kind prodeced druing the reign of Emperor Qianlong of the Qing Dynasty.The Qing court had such tea pots made to meet the demand of visitors from abroad.They were brought to Europe by western businessmen and are still highly treasured in many countries there.The piece in case is kept in the Royal Art History Museum in Bjrussels.The set of stamps reflects the long history of traditional friendship and communication between the two countries.
Share:

Price List
Item location: China
Ships to: Worldwide
*Shipping (via registered air mail) is based on subtotal of order. See detials below.
| | |
| --- | --- |
| Order Subtotal | S & H |
| $0.01---$15.00 | US $4.00 |
| $15.01---$60.00 | US $5.00 |
| $60.01---$100.00 | US $6.00 |
| $100.01---over | US $7.00 |
* 1) for special items shipping and handling cost may be included. 2) Other fast shipping is available.
To special order, please
let us know
what you are looking for. We will help you to meet your unique interests.