2001-10, Scott 3110-02 Duan Wu Festival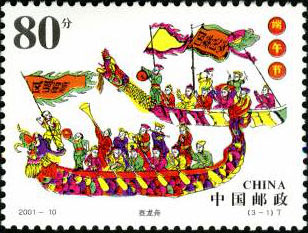 (3-1), Dragon Boat Race, 80 fen, 40*30mm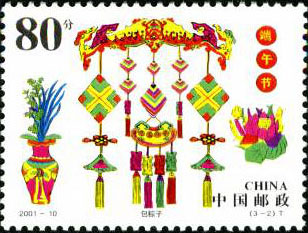 (3-2), Making Zongzi, 80 fen, 40*30mm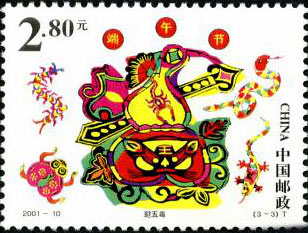 (3-3), Expelling Five poisons, 280 fen, 40*30mm
Technical details
Scott No: 3110-02
Serial number:2001-10
Values in set: 3
Denomination: 4.40 yuan
Date of issue:25th June 2001
Designer: Shang Yu and Huang Li
Size of stamps: 40*30mm
Perforation:13
Sheet compositon:
Sheet 1:40;
Sheet 2: 9
Printing process:gravure
Printer:Beijing Postage Stamp Printing House
Background
The traditional Dragon Boat Festival of China was on June 25 this year. Dragon boat race, eating zongzi and hanging out five-coloured thread are age-long activities to celebrate the holiday. Studies indicate that the Dragon Boat Festival originated in primitive people's worships of tribal totems. Legend has it that the holiday was initiated in memory of Qu Yuan, a stateman and patriolic poet of the Kingdom of Chu during the Warring States period. Qu Yuan was exiled by the king because of slandering by evil officiais. He drowned himself in the Miluo River on the 5th day of the 5th lunar month to express his devotion to his country. Deeply grieved, the local people threw many zongzi dumplings into the river so that the fish would not eat him and they tried to save him racing to his throwing spot by boat. Making Zongzi and dragon boat race have since become major activities to mark the festival.
Share:

Price List
Item location: China
Ships to: Worldwide
*Shipping (via registered air mail) is based on subtotal of order. See detials below.
| | |
| --- | --- |
| Order Subtotal | S & H |
| $0.01---$15.00 | US $5.00 |
| $15.01---$50.00 | US $6.00 |
| $50.01---$100.00 | US $7.00 |
| $100.01---$180.00 | US $8.00 |
| $180.01---over | US $9.00 |
* 1) for special items shipping and handling cost may be included. 2) Other fast shipping is available.
To special order, please
let us know
what you are looking for. We will help you to meet your unique interests.