2001-16, Scott 3131-34 Datong River Diversion Project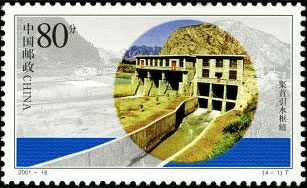 (4-1), Key Diversion Project at the Head of the Canal, 80 fen, 50*30 mm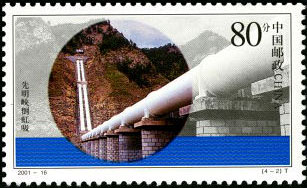 (4-2), Inverted Siphon on Xianming Gorge, 80 fen, 50*30 mm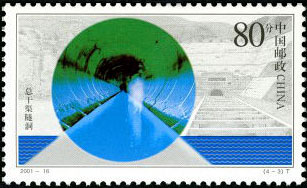 (4-3), Tunnel of the Canal, 80 fen, 50*30 mm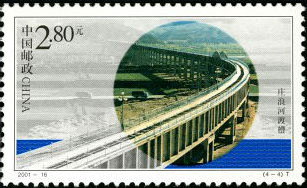 (4-4), Aqueduct on Zhuanglang River, 520 fen, 50*30 mm
Technical details
Scott No: 3131-34
Serial number: 2001-16
Values in set: 4
Denomination: 5.20 yuan
Date of issue: 26th August 2001
Designer: Jiang Weijie and Li Qingfa
Size of stamps: 50*30 mm
Perforation: 12
Sheet composition: 16
Printing process: offset
Printer: Henan Post & Telecommmunication Printing Works
Background
The Datong River Diversion Project is about 880 kilometres long, the largest artesian irrigation project in China's northwest. It diverts water from the Datong River flowing through Qinghai Province to the Qinwangchuan area 60 kilometres north of Lanzhou City of Gansu Province. Construction began in 1987 and finished in 1995. The project is a large-scale man-made "underground river", representing many firsts in world as well as in Chinese irrigation history. It is the biggest water diversion project for artesian irrigation across two drainage areas ever built since the founding of new China.
Share:

Price List
Item location: China
Ships to: Worldwide
*Shipping (via registered air mail) is based on subtotal of order. See detials below.
| | |
| --- | --- |
| Order Subtotal | S & H |
| $0.01---$15.00 | US $4.00 |
| $15.01---$60.00 | US $5.00 |
| $60.01---$100.00 | US $6.00 |
| $100.01---over | US $7.00 |
* 1) for special items shipping and handling cost may be included. 2) Other fast shipping is available.
To special order, please
let us know
what you are looking for. We will help you to meet your unique interests.