2001-22, Scott 3145 The Six Steeds at the Zhaoling Mausoleum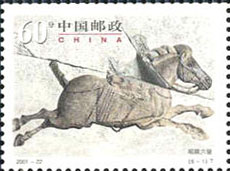 (6-1), Shifachi, 60 fen, 40*30 mm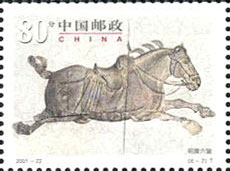 (6-2), Qingzhui, 80 fen, 40*30 mm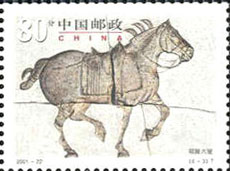 (6-3), Teqinbiao, 80 fen, 40*30 mm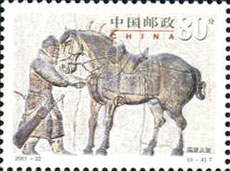 (6-4), Saluzi, 80 fen, 40*30 mm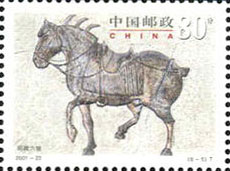 (6-5), Quanmaogua, 80 fen, 40*30 mm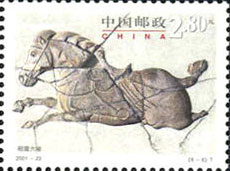 (6-6), Baitiwu, 280 fen, 40*30 mm
Technical details
Scott No: 3145
Serial number: 2001-22
Values in set: 6
Denomination: 6.60 yuan
Date of issue: 28th October 2001
Designer: Wang Huming
Size of stamps: 40*30 mm
Perforation:12
Sheet composition: 24
Printing process: gravure
Printer: Beijing Postage Stamp Printing House
Background
The imposing Zhaoling Mausoleum, located at the foot of a mountain in Liquan, Shaanxi Province, is the tomb f Li Shimin, or Taizong Emperor, the second emperor of the Tang Dynasty. The two rooms on the east and west sides in front of the mausoleum once housed the relief sculptures of six steeds, known as the Six Steeds at the Zhaoling Mausoleum. Li Shimin used to fight in battles on these six steeds before the founding of the Tang Dynasty, and gave them names to mark their outstanding performances in war. The six steeds in the relief sculptures, three running and three standing, look sturdy and vigorous. With harmonious compositions, lifelike appearances, and fine workmanship, these relief sculptures vividly show the steeds full of spirit and energy, and are regarded as gems of Tang-dynasty sculptural art and rare treasures among Chinese cultural relics. Two of the six sculptures were stolen and smuggled to the United States, and the other four are collected by the Shaanxi Provincial Museum.
Share:

Price List
Item location: China
Ships to: Worldwide
*Shipping (via registered air mail) is based on subtotal of order. See detials below.
| | |
| --- | --- |
| Order Subtotal | S & H |
| $0.01---$15.00 | US $5.00 |
| $15.01---$50.00 | US $6.00 |
| $50.01---$100.00 | US $7.00 |
| $100.01---$180.00 | US $8.00 |
| $180.01---over | US $9.00 |
* 1) for special items shipping and handling cost may be included. 2) Other fast shipping is available.
To special order, please
let us know
what you are looking for. We will help you to meet your unique interests.