2001-20, Scott 3141-42 Ancient Gilded and Gold Masks(Sino-Egypt Joint Issue)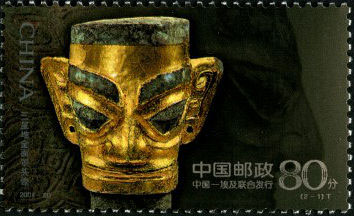 (2-1), The Sanxingdui Gilded Mask, 80 fen, 50*30 mm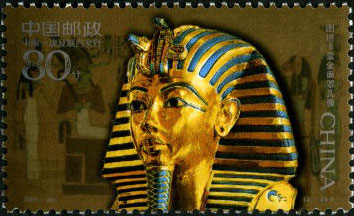 (2-2), The Gold Sacrophagus of Tutenkhamon, 80 fen, 50*30 mm
Technical details
Scott No: 3141-42
Serial number:2001-20
Values in set: 2
Denomination: 1.60 yuan
Date of issue: 12th October 2001
Designer: Wang Huming, Saeid El-Badrawy
Size of stamps: 50*30 mm
Perforation:12
Sheet composition: 18
Printing process: gravure
Printer: Beijing Postage Stamp Printing House
Background
The Sanxingdui Gilded Mask and the Gold Sacrophagus of Tutenkhamon were excavated from ancient cultural remains with a history of 3,000 years in China and Egypt respectively. The former, excavated from the Sanxingdui Ruins of Guanghan, Sichuan Province, China, is a refined gilded bronze ornament with gilded edges once used by Chinese ancestors in sacrificial rites for gods in charge of the Heaven, Earth, rivers and mountains. The latter, inlaid with shiny jewels, belonged to an Egyptian pharaoh, and was discovered in the Pharaoh Tutenkhamon of the 18th Dynasty tomb of Valley of the Kings, which sits at Thebes in Egypt. The exquisite craftsmanship, distinguished noble appearance, and the mysterious god-human connection epitomized in both antiques fully display the glorious cultures and arts of the two ancient civilizations.
Share:

Price List
Item location: China
Ships to: Worldwide
*Shipping (via registered air mail) is based on subtotal of order. See detials below.
| | |
| --- | --- |
| Order Subtotal | S & H |
| $0.01---$15.00 | US $5.00 |
| $15.01---$50.00 | US $6.00 |
| $50.01---$100.00 | US $7.00 |
| $100.01---$180.00 | US $8.00 |
| $180.01---over | US $9.00 |
* 1) for special items shipping and handling cost may be included. 2) Other fast shipping is available.
To special order, please
let us know
what you are looking for. We will help you to meet your unique interests.