2001-11, Scott 3113-07 Early Leaders of the Communist Party of China (1)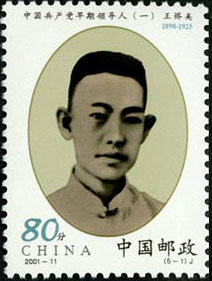 (5-1), Wang Jinmei, 80 fen, 30*40mm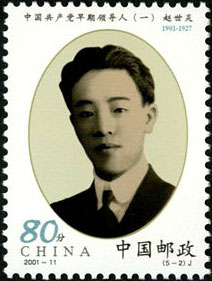 (5-2), Zhao Shiyan, 80 fen, 30*40mm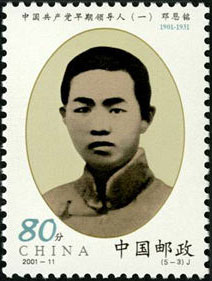 (5-3), Deng Enming, 80 fen, 30*40mm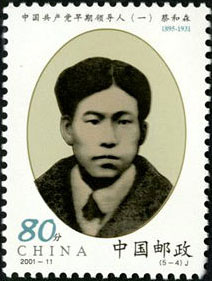 (5-4), Cai Hesen, 80 fen, 30*40mm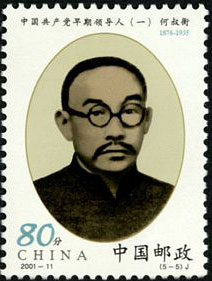 (5-5), He Shuheng, 80 fen, 30*40mm
Technical details
Scott No: 3113-07
Serial number: 2001-11
Values in set: 5
Denomination: 4.00 yuan
Date of issue: 28th June 2001
Designer: Wang Huming
Size of stamps: 30*40mm
Perforation: 12*11.5
Sheet compositon: 20
Printing process: gravure
Printer: Beijing Postage Stamp Printing House
Background
In the wake of the October Revolution (1917) of Russia, and with the spread of Marxism in China, a number of progressive youths of the May 4th Movement of 1919 became founders and leaders ot the Communist Party of China. In memory of early leaders of the Party State Postal Bureau decided to issue a series of stamps at its 80th anniversary (2001) of the Party. This set, the first part of the series , represents the images of five veteran revolutionaries, who were famous leaders of the Party in early years. Three of them participated in the first and second congress of the Party.
Share:

Price List
Item location: China
Ships to: Worldwide
*Shipping (via registered air mail) is based on subtotal of order. See detials below.
| | |
| --- | --- |
| Order Subtotal | S & H |
| $0.01---$15.00 | US $4.00 |
| $15.01---$60.00 | US $5.00 |
| $60.01---$100.00 | US $6.00 |
| $100.01---over | US $7.00 |
* 1) for special items shipping and handling cost may be included. 2) Other fast shipping is available.
To special order, please
let us know
what you are looking for. We will help you to meet your unique interests.