2002-8, Scott 3193 The Qianshan Mountain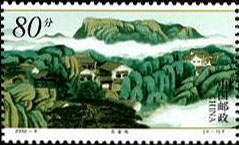 (4-1), Wuliang Taoist Temple, 80 fen, 50*30 mm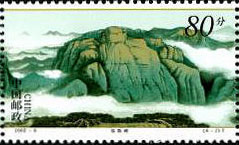 (4-2), The peak of Maitreya, 80 fen, 50*30 mm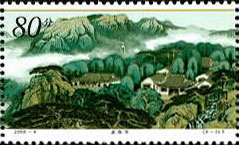 (4-3), Longquan Temple, 80 fen, 50*30 mm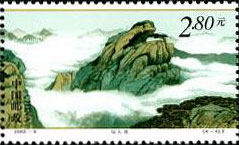 (4-4), The Terrace of Immortals, 280 fen, 50*30 mm
Technical details
Scott No: 3193
Serial number: 2002-8
Values in set: 4
Denomination: 5.20 yuan
Date of issue: 26th April 2002
Designer: Xu Jianmin and yan Bingwu
Size of stamp: 50*30 mm
Perforation: 12
Sheet composition: 16
Printing process: photogravure
Printer: Beijing Postage Stamp Printing House
Background
The Qianshan Mountain, located southeast of Anshan, Liaoning Province, is one of the three famous mountains in northeast China. The Terrace of Immortals, the main peak of the mountain, is over 700 meters above sea level. The Qianshan Mountain (meaning "a thousand peaks" in Chinese) got its name from the nearly 1,000 peaks. Some of them look like crouching lions and tigers, some like sleeping elephants and coiled dragons. As early as Sui and Tang Dynasties the mountain was the location for temple, and later became a center of Buddhist and Taoist temples. The forest-clad mountain abounds with scenic spots and historical sites. It is a tourist attraction in east Liaoning Province well known for the "towering peaks, step rocks and ancient temples".
Share:

Price List
Item location: China
Ships to: Worldwide
*Shipping (via registered air mail) is based on subtotal of order. See detials below.
| | |
| --- | --- |
| Order Subtotal | S & H |
| $0.01---$15.00 | US $4.00 |
| $15.01---$60.00 | US $5.00 |
| $60.01---$100.00 | US $6.00 |
| $100.01---over | US $7.00 |
* 1) for special items shipping and handling cost may be included. 2) Other fast shipping is available.
To special order, please
let us know
what you are looking for. We will help you to meet your unique interests.