2002-9, Scott 3194-96 The Ancient City of Lijiang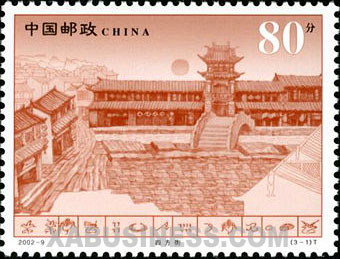 (3-1), Sifang Street, 80 fen, 50*38 mm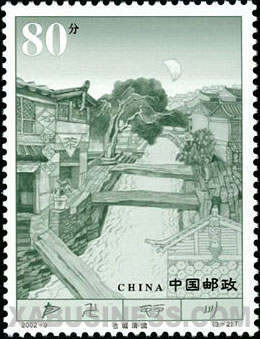 (3-2), A Clear Stream in the Ancient City, 80 fen, 38*50 mm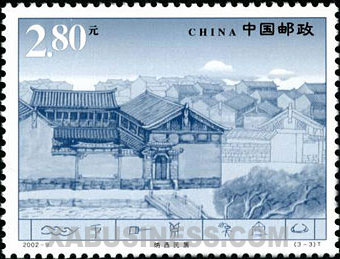 (3-3), Folk House of Naxi Nationality, 280 fen, 50*38 mm
Technical details
Scott No: 3194-96
Serial number: 2002-9
Values in set: 3
Miniature sheet: 1
Denomination: 4.40 yuan
Price of M/S: 6.60 yuan
Date of issue: 1st May 2002
Designer: Guo Chenghui
Size of stamp:
50*38 mm for Value 1 and 3;
38*50 mm for Value 2
Size of M/S: 145 * 100 mm
Perforation: 11.5
Sheet composition: 24
Printing process: photogravure
Printer: Beijing Postage Stamp Printing House
Background
Lijiang, a beautiful, quiet ancient city, sits in the northwest of Yunnan Province. Established in late Southern Song Dynasty, it was once the capital of the ancient Naxi Kingdom. It has a mixed population of 10-odd nationalities including Naxi. The millennia-old, deep-rooted Naxi culture, blended with Confucian, Buddhist and Taoist cultures, has granted graceful charms to the city. Surrounded by verdant mountains, and with green streams meandering across, Lijiang is reminiscent of a waterside town in southeast China, hence it is reputed as "Suzhou on the Plateau". Inside the city, there are closely built folk houses, streets and lanes paved with pebbles, and numerous stores. Once a place where the Southern Silk Road and the ancient Road of Tea and Horses met, Lijiang is still an important city of trade between Yunnan and Tibet.
Share:

Price List
Item location: China
Ships to: Worldwide
*Shipping (via registered air mail) is based on subtotal of order. See detials below.
| | |
| --- | --- |
| Order Subtotal | S & H |
| $0.01---$15.00 | US $5.00 |
| $15.01---$50.00 | US $6.00 |
| $50.01---$100.00 | US $7.00 |
| $100.01---$180.00 | US $8.00 |
| $180.01---over | US $9.00 |
* 1) for special items shipping and handling cost may be included. 2) Other fast shipping is available.
To special order, please
let us know
what you are looking for. We will help you to meet your unique interests.