2002-14, Scott 3214 Desert Plants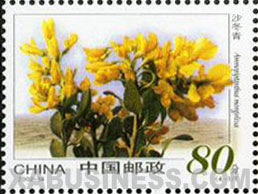 (4-1), Ammopiptanthus mongolicus, 80 fen, 40*30 mm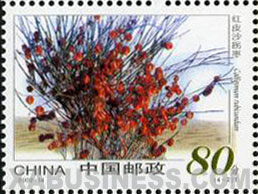 (4-2), Calligonum rubicandum, 80 fen, 40*30 mm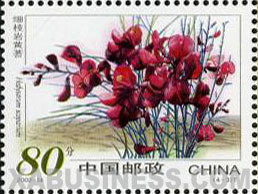 (4-3), Hedysarum scoparium, 80 fen, 40*30 mm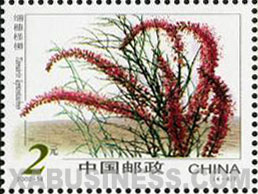 (4-4), Tamarix leptostachys, 200 fen, 40*30 mm
Technical details
Scott No: 3214
Serial number:2002-14
Values in set: 4
Denomination: 4.40 yuan
Date of issue: 29th June 2002
Designer: Guo Zhenshan
Size of stamps: 40*30 mm (se-tenant)
Perforation: 12
Sheet composition: 20
Printing process: photogravure
Printer: Beijing Postage Stamp Printing House
Background
China's deserts account for 20% of the country's territory, and are still expanding. The long practice of tackling deserts has proved that protection of desert plants and vegetation is an essential measure to harness the desert. The four species of desert plants shown on the stamps are good plants for fixation of desert sandy soil in different habitats of the desert. Ammopiptanthus mongolicus is a unique evergreen broad-leaf plant growing in the desert, and one of the major endangered species under state key protection in Cina. Calligonum rubicandum is a good plant for fixing sand in the moving desert sandy soil, with a great capacity of spreading seeds. Hedysarum scoparium is pioneer plant for fixing sand in the desert, and nice feed for camel and sheep. Tamarix leptostachys is a good plant for fixing sand in the salinized sandy soil, and popular afforestation plant in the Gobi villages.
Share:

Price List
Item location: China
Ships to: Worldwide
*Shipping (via registered air mail) is based on subtotal of order. See detials below.
| | |
| --- | --- |
| Order Subtotal | S & H |
| $0.01---$15.00 | US $5.00 |
| $15.01---$50.00 | US $6.00 |
| $50.01---$100.00 | US $7.00 |
| $100.01---$180.00 | US $8.00 |
| $180.01---over | US $9.00 |
* 1) for special items shipping and handling cost may be included. 2) Other fast shipping is available.
To special order, please
let us know
what you are looking for. We will help you to meet your unique interests.