2002-20, Scott 3234-36 Mid-autumn Festival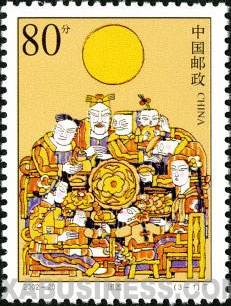 (3-1), Family Reunion, 80 fen, 30*40 mm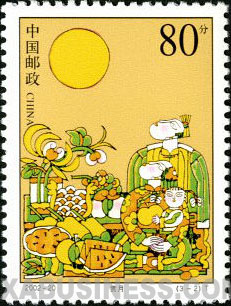 (3-2), Enjoying the Full Moon, 80 fen, 30*40 mm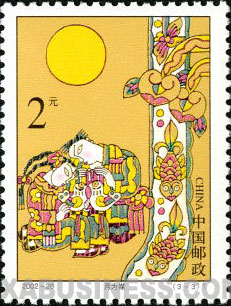 (3-3), The Moon Playing Matchmaker, 200 fen, 30*40 mm
Technical details
Scott No: 3234-36
Serial number: 2002-20
Values in set: 3
Denomination: 3.60 yuan
Date of issue: 21th Sep. 2002
Designer: Yu Xinsheng
Size of stamps: 30*40 mm
Perforation: 11.5
Sheet composition: 20
Printing process: gravure
Printer: Beijing Postage Stamp Printing House
Background
Mid-autumn Festival is one of the most important traditional festivals to the Chinese nations. It falls on the 15th day of the 8th lunar month, just in the middle of autumn, when the skies are clear, winds crisp and farmers share the happiness of harvest. At night, the moon hangs high in the sky, showering its silvery light on the ground. It is the most significant and idyllic moment for reunited families to appreciate the moon. The full moon will remind you of your family reunions even though you are far away from home, hence it is also called "Festival of Reunion". It originated in the remote past, got popular in the Han and Tang dynasties, and has been observed up to today, carrying with it enchanting legends and immortal poems and proverbs. The moon cake, symbolizing happiness and reunion, is the most typical food during the Mid-autumn Festival.
Share:

Price List
Item location: China
Ships to: Worldwide
*Shipping (via registered air mail) is based on subtotal of order. See detials below.
| | |
| --- | --- |
| Order Subtotal | S & H |
| $0.01---$15.00 | US $5.00 |
| $15.01---$50.00 | US $6.00 |
| $50.01---$100.00 | US $7.00 |
| $100.01---$180.00 | US $8.00 |
| $180.01---over | US $9.00 |
* 1) for special items shipping and handling cost may be included. 2) Other fast shipping is available.
To special order, please
let us know
what you are looking for. We will help you to meet your unique interests.