2002-23, Scott 3240 The Story of Dong Yong and the Seventh Immortal Maiden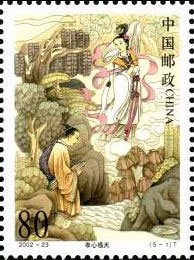 (5-1), Dong Yong's Filial Love Moving Immortals, 80 fen, 30*40 mm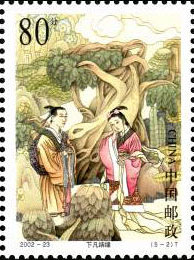 (5-2), The Seventh Immortal Maiden Marrying Dong Yong, 80 fen, 30*40 mm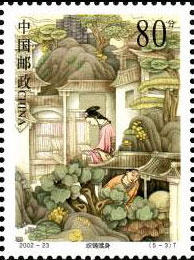 (5-3), The Seventh Immortal Maiden Weaving Brocade to Buy Dong's Freedom, 80 fen, 30*40 mm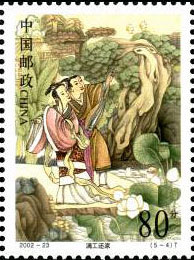 (5-4), Dong Yong Coming Back Home, 80 fen, 30*40 mm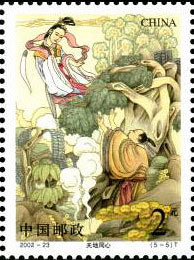 (5-5), Everlasting Love, 200 fen, 30*40 mm
Technical details
Scott No: 3240
Serial number: 2002-23
Values in set: 5 (se-tenant)
Denomination: 5.20 yuan
Date of issue: 26th Oct. 2002
Designer: Yu Hongli
Size of stamps: 30*40 mm
Perforation: 13*13.5
Sheet composition: 20
Printing process: gravure
Printer: Beijing Postage Stamp Printing House
Background
The Story of Dong Yong and the seventh immortal maiden can be traced back to a stone relief of the Han Dynasty depicting Dong Yong's filial conducts. In the past 2,000 years, the story has been continuously enriched, and there have appeared many versions. The most representative version is a Huangmei Opera "Love of an Immortal Maiden". As the story goes, Dong Yong sold himself to be a slave in order to get enough money to bury his dead father. The seventh daughter of Jade Emperor in the Heaven, moved by his filial piety, descended to the earth and married him. She worked hard to buy Dong's freedom. As they started to enjoy the happy life, Jade Emperor ordered his daughter to return to the Heaven. To protect Dong, the seventh immortal maiden had to part with her husband. This sad, moving love tragedy has long been known to all Chinese people. To them, the honest, simple-hearted, industrious Dong Yong and the beautiful, kind-hearted, sincere Seventh Immortal Maiden symbolize conjugal love.
Share:

Price List
Item location: China
Ships to: Worldwide
*Shipping (via registered air mail) is based on subtotal of order. See detials below.
| | |
| --- | --- |
| Order Subtotal | S & H |
| $0.01---$15.00 | US $4.00 |
| $15.01---$60.00 | US $5.00 |
| $60.01---$100.00 | US $6.00 |
| $100.01---over | US $7.00 |
* 1) for special items shipping and handling cost may be included. 2) Other fast shipping is available.
To special order, please
let us know
what you are looking for. We will help you to meet your unique interests.