2002-12, Scott 3204-07 Water-Control and Hydroelectricity Works on the Yellow River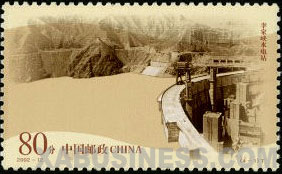 (4-1), Lijia Gorge Hydropower Station, 80 fen, 50*30 mm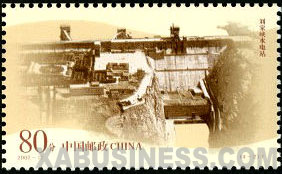 (4-2), Liujia Gorge Hydropower Station, 80 fen, 50*30 mm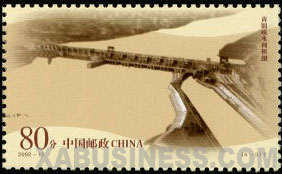 (4-3), Qingtong Gorge Water-Control Works, 80 fen, 50*30 mm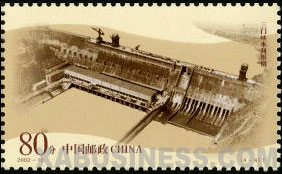 (4-4), Sanmen Gorge Water-Control Works, 80 fen, 50*30 mm
Technical details
Scott No: 3204-07
Serial number: 2002-12
Values in set: 4
Souvenir Sheet: 1
Denomination: 3.20 yuan
Denomination of S/S: 8 yuan
Date of issue: 8th June 2002
Designer: Jiang Weijie and Li Qingfa
Size of stamps: 50*30 mm
Size of S/S : 115*96 mm
Size of S/S stamp : 40*60 mm
Perforation: 13 * 12.5
Sheet composition: 12
Printing process: gravure
Printer: Beijing Postage Stamp Printing House
Background
The Yellow River, the second longest river in CHina, is over 5,000 km long in the trunk stream, and meanders across 9 provinces and autonomous regions. The cradle of the Chinese civilization, the Yellow River basin suffered frequent floods in history. Great achievements have been scored in the water-control and development of the river since the founding of the new China. Altogether 14 large and medium-sized hydropower stations and water-control works have been established or are under construction along the trunk stream from the longyang Gorge to Xiaolangdi, forming the largest group of terraced hydropower stations. The flood control, disaster alleviation and exploitatioin of hydro resources along the Yellow River have vigorously facilitated the social and economical development in the basin, bringing this river to a new life.
Share:

Price List
Item location: China
Ships to: Worldwide
*Shipping (via registered air mail) is based on subtotal of order. See detials below.
| | |
| --- | --- |
| Order Subtotal | S & H |
| $0.01---$15.00 | US $4.00 |
| $15.01---$60.00 | US $5.00 |
| $60.01---$100.00 | US $6.00 |
| $100.01---over | US $7.00 |
* 1) for special items shipping and handling cost may be included. 2) Other fast shipping is available.
To special order, please
let us know
what you are looking for. We will help you to meet your unique interests.