2002-7, Scott 3191-92 Strange Stories from a Chinese Studio---One of China's Famous Classical Literary Works(2nd group)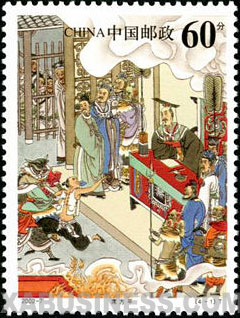 (4-1), Xi Fangping, 60 fen, 38*50 mm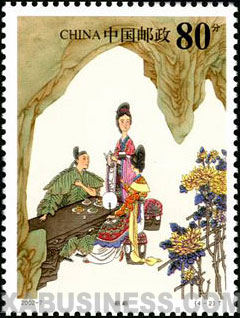 (4-2), Pianpian, 80 fen, 38*50 mm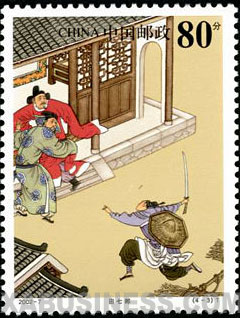 (4-3), Tian Qilang, 80 fen, 38*50 mm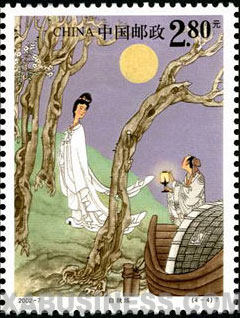 (4-4), Bai Qiulian, 280 fen, 38*50 mm
Technical details
Scott No: 3191-92
Serial number: 2002-7
Values in set: 4
Denomination: 5.00 yuan
Date of issue: 21st April 2002
Designer: Chen Quansheng
Size of stamp: 38*50 mm
Perforation: 11.5
Sheet composition: 22
Printing process: photogravure
Printer: Beijing Postage Stamp Printing House
Background
Pu Songling, a writer of the Qing Dynasty, created a series of vivid, amazing characters in his work, Strange Stories from a Chinese Studio, a collection of short stories. Pianpian, the fairy who can turn a green leaf into a chicken of fish and make winter coat with white clouds, and the poem-therapy in Bai Qiulian, the fish spirit's case give the readers endless reveries. The fantastic stories of ghosts and fox spirits are beautiful and fascinating, demonstrating their unique artistic style and charm. Strange Stories from a Chinese Studio has been widely read for over 300 years and well known both in China and abroad. It had a great influence on later short stories in classical Chinese.
Share:

Price List
Item location: China
Ships to: Worldwide
*Shipping (via registered air mail) is based on subtotal of order. See detials below.
| | |
| --- | --- |
| Order Subtotal | S & H |
| $0.01---$15.00 | US $4.00 |
| $15.01---$60.00 | US $5.00 |
| $60.01---$100.00 | US $6.00 |
| $100.01---over | US $7.00 |
* 1) for special items shipping and handling cost may be included. 2) Other fast shipping is available.
To special order, please
let us know
what you are looking for. We will help you to meet your unique interests.