2002-6, Scott 3187-90 Chinese Pottery of Porcelain - Porcelains from Ruyao Kilns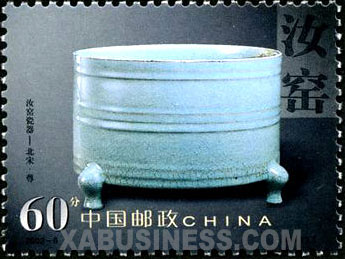 (4-1), Wine Vessel, from Northern Song Dynasty, 60 fen, 40*30 mm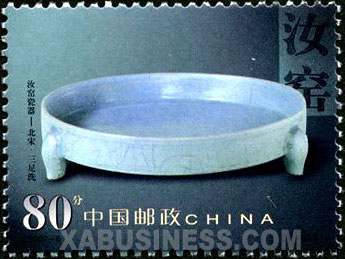 (4-2), Three-legged Basin, from Northern Song Dynasty, 80 fen, 40*30 mm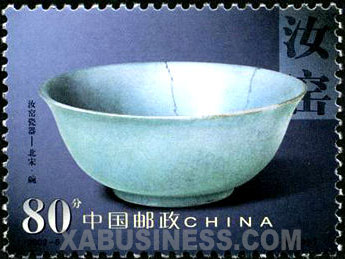 (4-3), Bowl, from Northern Song Dynasty, 80 fen, 40*30 mm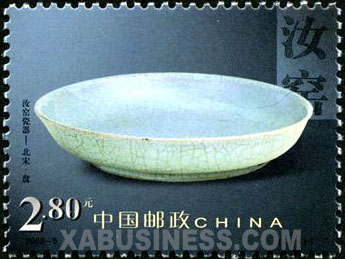 (4-4), Dish, from Northern Song Dynasty, 280 fen, 40*30 mm
Technical details
Scott No: 3187-90
Serial number: 2002-6
Values in set: 4
Denomination: 5.00 yuan
Date of issue: 30th March 2002
Designer: Wang Huming
Size of stamp: 40*30 mm
Perforation: 12
Sheet composition: 19
Printing process: offset
Printer: Henan Post & Telecommunication Printing Works
Background
One of the five most famous locations of kilns in the Song Dysnaty of China, the Ruyao Kilns sat in Baofeng County, Henan Province, and was named after Ruzhou Perfecture, which Baofeng was part of in the Song Dynasty. The kilns uesd to produce blue galzed porcelains for imperial use. The biscuits are of the colour of incense ashes, and usually bear no painted patterns. Glazing is the main means of decoration. A finished product is glossy and blue, bearing fine crackles. The simple and fine glazing, combined with the shape of the product, forms a very graceful style, giving an impression of brightness and liveliness. The porcelains of Ruyao Kilns, hard to come by even in the Southern Song Dynasty, are very precious today, with only less than 100 of them left.
Share:

Price List
Item location: China
Ships to: Worldwide
*Shipping (via registered air mail) is based on subtotal of order. See detials below.
| | |
| --- | --- |
| Order Subtotal | S & H |
| $0.01---$15.00 | US $5.00 |
| $15.01---$50.00 | US $6.00 |
| $50.01---$100.00 | US $7.00 |
| $100.01---$180.00 | US $8.00 |
| $180.01---over | US $9.00 |
* 1) for special items shipping and handling cost may be included. 2) Other fast shipping is available.
To special order, please
let us know
what you are looking for. We will help you to meet your unique interests.