1998-2, Scott 2829-32 Garden of Lignan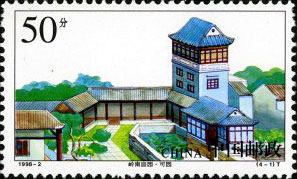 (4-1), Keyuan Garden, 50 fen, 50*30mm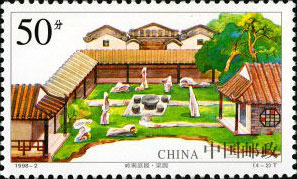 (4-2), Liangyuan Garden, 50 fen, 50*30mm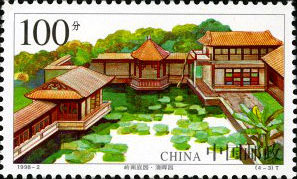 (4-3), Qinghui Garden, 100 fen, 50*30mm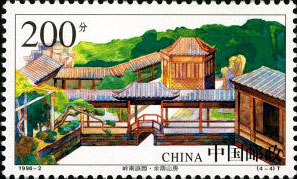 (4-4), Yuyin Garden, 200 fen, 50*30mm
Technical details
Scott No: 2829-32
Serial number: 1998-2
Values in set: 4
Date of issue: January 18, 1998
Designers: Guo Chenghui ; Yan Bingwu;
Pan Keming
Size: 50*30mm
Perforation: 12
Sheet composition: 40
Printing process: offset
Background
The Chinese garden art is impressive and inspiring. Geographically, the northern gardens are broad and emphasize magnificence; while the gardens south of the Yangtze River are meandering and emphasize the disposition. The Garden of Lingnan refers to the classic gardens of the Qing Dynasty in the central and eastern parts of Guangdong Province, which emphasizes a family atmosphere, is consisted of lobbies and rooms, buildings and corridors, with complete facilities, as well as distinct demarcations between the main and the accessory. The Keyuan Garden, the Liangyuan Garden, the Qinghui Garden and the Yuyin Mountain Mansion are the representatives of the Garden of Lingnan. They usually occupy small tracts of land where the pavilions and verandas are simply shaped, complicated shape composition is rarely seen, and usually a corner of their roofing is overhanging. Every garden must have a pond or pool surrounding the house. Inside the garden grow the opulent and lush plants, miniaturizing the spring flowers and autumn harvest as well as mountains and water of the nature into a small, elegant garden, and creating an extraordinary atmosphere.
Wandering in the Garden of Lingnan, one enjoys a delightful taste of the family life, for the gardens may help cultivate the personality and provide a good place of rest. In their structure, Garden of Lingnan is moue like a combination of small gardens: with the traditional styles of Chinese classic gardens as well as strikingly local flavour and unique charms because of geographical, climatic and local folk influences.
Share:

Price List
Item location: China
Ships to: Worldwide
*Shipping (via registered air mail) is based on subtotal of order. See detials below.
| | |
| --- | --- |
| Order Subtotal | S & H |
| $0.01---$15.00 | US $5.00 |
| $15.01---$50.00 | US $6.00 |
| $50.01---$100.00 | US $7.00 |
| $100.01---$180.00 | US $8.00 |
| $180.01---over | US $9.00 |
* 1) for special items shipping and handling cost may be included. 2) Other fast shipping is available.
To special order, please
let us know
what you are looking for. We will help you to meet your unique interests.