1998-8, Scott 2855-58 Architecture of Dai Nationality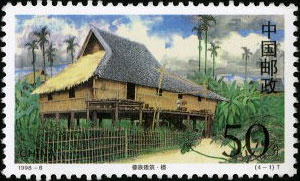 (4-1), Storied Building, 50 fen, 50*30mm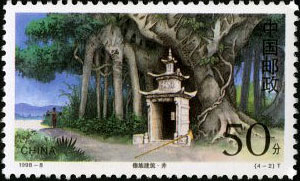 (4-2), Well, 50 fen, 50*30mm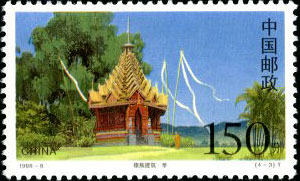 (4-3), Pavilion, 150 fen, 50*30mm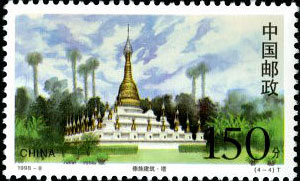 (4-4), Pagoda, 150 fen, 50*30mm
Technical details
Scott No: 2855-58
Serial number: 1998-8
Values in set: 4
Date of issue: April 12, 1998
Designers: Xiao Rong; Yang Jiankun
Size of stamp: 50*30mm
Perforation: 11.5
Sheet composition: 32
Printing process: gravure
Background
Dai nationality is an ancient nationality in Southwest China and Southeast Asian region. The rich Dai culture has fostered unique human landscapes of the Dai nationality. Of the human landscapes, architecture of Dai nationality is especially striking. The Dai people live in concentration in regions which are lush in forest, abundant in bamboo, humid and rainy. Therefore, the Dai people use bamboo and wood to build their long pillar-propped dwellings, also called the bamboo houses. A bamboo house is normally a two-storeyed house, which is not only pleasant looking but also suitable and practical for living. The Dai people believe in Hinayana, and their Buddhist architectures also have their distinctive features. The coniform and pointed body of the Dai style pagodas make them look like bamboo shoots. The Dai style Buddhist architecture, with the Octagonal Pavilion of the scripture hall of the Jingzhen Temple as its representative, is sophisticated in structure, elegant and exquisite in style. In the Dai areas, there are Dai-style wells everywhere. On top of some of the wells, Buddhist pagodas or vertical stone statues were built directly. Against the backdrop of tropical plants as areca palms, fern-leaf hedge bamboo and banana trees, bamboo houses, wells, temples and pagodas and Buddhist halls reveal the charming, poetic scenery of the Dai nationality.
Share:

Price List
Item location: China
Ships to: Worldwide
*Shipping (via registered air mail) is based on subtotal of order. See detials below.
| | |
| --- | --- |
| Order Subtotal | S & H |
| $0.01---$15.00 | US $5.00 |
| $15.01---$50.00 | US $6.00 |
| $50.01---$100.00 | US $7.00 |
| $100.01---$180.00 | US $8.00 |
| $180.01---over | US $9.00 |
* 1) for special items shipping and handling cost may be included. 2) Other fast shipping is available.
To special order, please
let us know
what you are looking for. We will help you to meet your unique interests.