1998-14, Scott 2874-75 New Look of Chongqing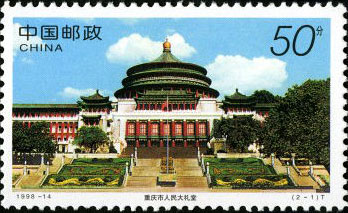 (2-1), Great Hall of the People of Chongqing, 50 fen, 50*30mm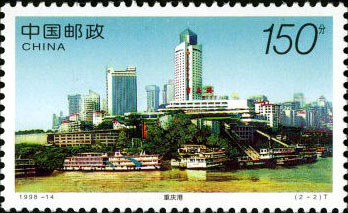 (2-2), Chongqing Port, 150 fen, 50*30mm
Technical details
Scott No: 2874-75
Serial number: 1998-14
Values in set: 2
Date of issue: June 18, 1998
Designers: Wang Huming; Qin Renwei
Wang Yong; Song Kejing
Size of stamp: 50*30mm
Perforation: 12
Sheet composition: 40
Printing process: offset
Background
Chongqing is a city with a long history. It was called "Ba" in the ancient time and named "Yu" for short. At that time, Chongqing became a regional military and political centre on the one hand, and on other hand, as the Yangtze River and the Jialingjiang River converge here, the advantages of transport facilities and rich resources also made it an economic centre in the region, as well as a water and road transportation centre and a prosperous commercial centre. Today's Chongqing Port is the largest port along the upper reaches of the Yangtze River. Chongqing is also a famous cultural and historical city of China. Surrounded by two rivers, it is a beautiful river city as well as a world famous mountain city. The city was built against the mountain, over-looking the river. The roads in the city are sloping and winding. Buildings rise one above the other; tunnels cross the mountains; and bridges span the mountains and rivers. The city has become part of the mountain. No wonder people say that "the mountain is a city, and the city is a mountain". At night, standing at a high point, one could see myriads of twinkling lights and nests of stars amid mountains and rivers. The entire city looks just like a palace floating on the water. The night scene of Chongqing has been known all over the world. Since it became a city in 1929, Chongqing has made great contributions to the national economy. In March 1997, Chongqing was approved by the National People's Congress as a municipality directly under the leadership of the central government. It has a total area of 82,000 square kilometres and a population of 30.02 million. As a major city, Chongqing is fully playing its supporting and radiant roles in carrying out the central government's strategy in developing the central and western area, as well as the Yangtze River economic development strategy and the Three Gorges economic area development strategy.
Share:

Price List
Item location: China
Ships to: Worldwide
*Shipping (via registered air mail) is based on subtotal of order. See detials below.
| | |
| --- | --- |
| Order Subtotal | S & H |
| $0.01---$15.00 | US $5.00 |
| $15.01---$50.00 | US $6.00 |
| $50.01---$100.00 | US $7.00 |
| $100.01---$180.00 | US $8.00 |
| $180.01---over | US $9.00 |
* 1) for special items shipping and handling cost may be included. 2) Other fast shipping is available.
To special order, please
let us know
what you are looking for. We will help you to meet your unique interests.