1998-20, Scott 2895-96 The Palace Museum and Louvre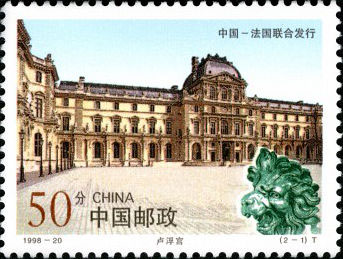 (2-1), Louvre Palace, 50 fen, 40*30mm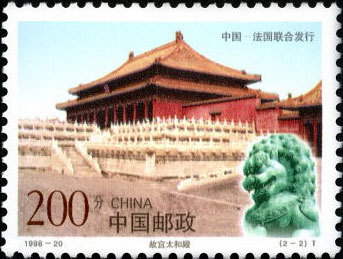 (2-2), Hall of Heavenly Peace in the Imperial Palace, 200 fen, 40*30mm
Technical details
Scott No: 2895-96
Serial number: 1998-20
Values in set: 2
Date of issue: September 12, 1998
Size of stamp: 40*30mm
Perforation:
13 for Value 1
11*11.5 for Value 2
Sheet composition: 20
Printing process: gravure
Background
The Palace Museum, also called "the Forbidden City", was the imperial palace of China's Ming and Qing dynasties. Emperor Yongle of the Ming Dynasty decided to build the Forbidden City in 1406. The construction took 14 years to "build the celestial palace on the earth with all the power and materials of China." The Hall of Supreme Harmony was one of the most important buildings as well as the highest building in the Forbidden City. The Hall of Supreme Harmony was the symbol of highest power of the emperor, it was here where the most important ceremonies were held, such as: new emperor's ascending to the throne, his wedding, as well as important anniversaries and proclamations of important edicts and appointment of generals before going out to battle. The bronze lions have been guarding the gates of the hall day and night throughout the dynasties.
Louvre, located beside the Seine River in the downtown of Paris, is one of the most magnificent palaces in Europe. It is the world's largest art gallery. In the early 13th century, French King Philip Augusta first built his castle here. Later on, the building had been expanded from time to time. The architectural complex was completed during the reign of Louis XIV. Starting from 1793, Louvre palace was open to the public as a national art gallery, which was divided into different sections according to different schools, styles and historical periods. The palace has collected more than 400,000 pieces of art treasure, which glamour together with the Louvre.
Share:

Price List
Item location: China
Ships to: Worldwide
*Shipping (via registered air mail) is based on subtotal of order. See detials below.
| | |
| --- | --- |
| Order Subtotal | S & H |
| $0.01---$15.00 | US $5.00 |
| $15.01---$50.00 | US $6.00 |
| $50.01---$100.00 | US $7.00 |
| $100.01---$180.00 | US $8.00 |
| $180.01---over | US $9.00 |
* 1) for special items shipping and handling cost may be included. 2) Other fast shipping is available.
To special order, please
let us know
what you are looking for. We will help you to meet your unique interests.