1998-25, Scott 2916-19 The 100th Anniversary of the Birth of Comrade Liu Shaoqi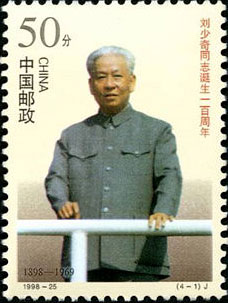 (4-1), On the Tian'anmen Gate Tower, 50 fen, 30*40mm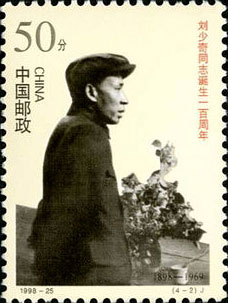 (4-2), Attending the Seventh National Congress of the Communist Party of China, 50 fen, 30*40mm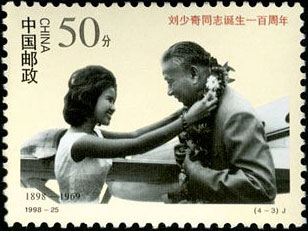 (4-3), Visiting a foreign country, 50 fen, 40*30mm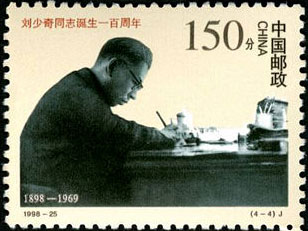 (4-4), Working in the Office, 150 fen, 40*30mm
Technical details
Scott No: 2916-19
Serial number: 1998-25
Values in set: 4
Date of issue: November 24, 1998
Designers: Jiang Weijie; Li Qingfa
Size:
30*40mm for Value 1, 2
40*30mm for Value 3, 4
Perforation: 11.5
Sheet composition: 40
Printing process: gravure
Background
Liu Shaoqi is a great Marxist, one of the top leaders of the Chinese communist Party and the People's Republic of China and an outstanding proletarian revolutionist, politician and theorist. Liu was born in Ningxiang County, Hunan Province on November 24, 1898, and joined the Communist Party of China in 1921. In the nearly half century of his revolutionary career, he has made immortal contributions to the Chinese revolution and construction cause. His many important works on China's new democratic revolution, socialist revolution and construction, especially the Party's construction are an important part of Mao Zedong Thought. He was made important part of Mao Zedong Thought. He has made important contributions to the establishment of Mao Zedong Thought's guiding position in the whole Party. Liu is a Communist with noble personality. His well cultured in Party spirit has set a good example in the whole Party.
After the "cultural revolution" started in 1966, he was wrongly criticized and politically framed up and persecuted personally by the anti-revolutionary group led by Lin Biao and Jiang Qing. He died on November 12, 1969. The fifth session of the 11th Party Congress in 1980 reached a resolution on the rehabilitation of his reputation. His main works were included in the "Selected Works of Liu Shaoqi".
Share:

Price List
Item location: China
Ships to: Worldwide
*Shipping (via registered air mail) is based on subtotal of order. See detials below.
| | |
| --- | --- |
| Order Subtotal | S & H |
| $0.01---$15.00 | US $5.00 |
| $15.01---$50.00 | US $6.00 |
| $50.01---$100.00 | US $7.00 |
| $100.01---$180.00 | US $8.00 |
| $180.01---over | US $9.00 |
* 1) for special items shipping and handling cost may be included. 2) Other fast shipping is available.
To special order, please
let us know
what you are looking for. We will help you to meet your unique interests.