1998-22, Scott 2900-3 The Longquan Kiln-China's Ceramics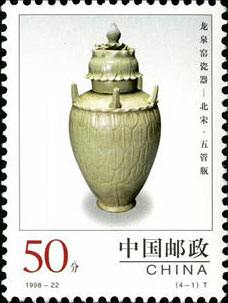 (4-1), Vase with Five Spouts - Northern Song Dinasty, 50 fen, 30*40mm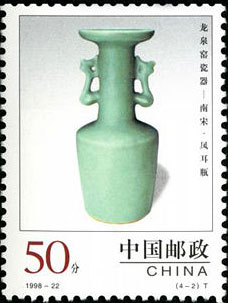 (4-2), Vase with Phoenix Ears - Southern Song Dinasty, 50 fen, 30*40mm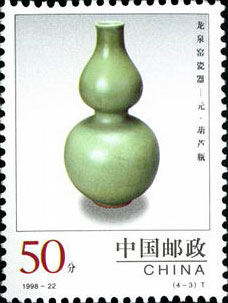 (4-3), Double Gourd Vase - Yuan Dinasty, 50 fen, 30*40mm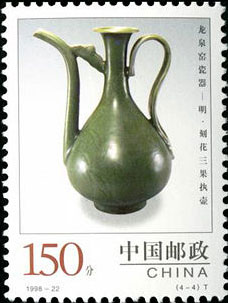 (4-4), Engraved Ewer Decorated with Three Fruits - Ming Dinasty, 150 fen, 30*40mm
Technical details
Scott No: 2900-3
Serial number: 1998-22
Values in set: 4
Date of issue: October 13, 1998
Designers: Wang Huming; Ren Yu
Size of stamp: 30*40mm
Perforation: 12
Sheet composition: 50
Printing process: offset
Background
The Longquan Kiln boasts as one of the thousands of Chinese ceramic kilns, which has the longest ceramic making history. It was first built during the period of Three Kingdoms and the Eastern and Western Jin dynasties and ended in the late Qing Dynasty, lasting more than 1,600 years. During the Song and the Yuan dynasties, there were many kilns here producing a large number of green porcelain, which were sold at home and abroad. The Longquan Kiln has thus become well-known.
The booming period of the Longquan kiln was in the late Southern Song and the Yuan dynasties, when the quality of green porcelain was greatly raised. Around the year 1200, the advanced ceramic making technique was adopted by the Kiln to produce high-grade porcelain, which was supplied to the imperial families and high-ranking officials. In this period, the ceramic production was pushed to a new height, and varieties were greatly enriched, from living utensils to decorative and sacrificial ceramics. In the Yuan Dynasty, ceramic industry was further developed. Large plates and bowls were produced to meet the need of Mongolian nobles and Muslims in West Asia. In the Ming and the Qing dynasties, the Longquan Kiln gradually declined, but the kiln's product quality was still high in the early stage of Ming Dynasty. The carved kettles collected by the Palace Museum were the representative works of the Longquan Kiln in the Ming Dynasty.
Share:

Price List
Item location: China
Ships to: Worldwide
*Shipping (via registered air mail) is based on subtotal of order. See detials below.
| | |
| --- | --- |
| Order Subtotal | S & H |
| $0.01---$15.00 | US $5.00 |
| $15.01---$50.00 | US $6.00 |
| $50.01---$100.00 | US $7.00 |
| $100.01---$180.00 | US $8.00 |
| $180.01---over | US $9.00 |
* 1) for special items shipping and handling cost may be included. 2) Other fast shipping is available.
To special order, please
let us know
what you are looking for. We will help you to meet your unique interests.