1998-9, Scott 2859-62 Construction in Hainan Special Economic Zone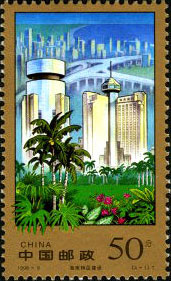 (4-1), Urban Construction in Haikou, 50 fen, 30*50mm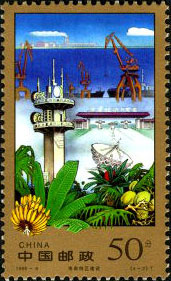 (4-2), Yangpu Economic Development Zone, 50 fen, 30*50mm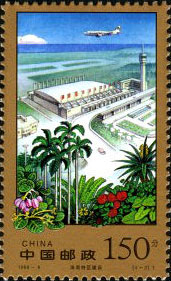 (4-3), Sanya Phoenix International Airport, 150 fen, 30*50mm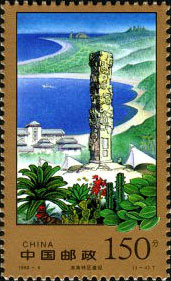 (4-4), Yalongwan National Tourism and Resort Zone, 150 fen, 30*50mm
Technical details
Scott No: 2859-62
Serial number: 1998-9
Values in set: 4
Date of issue: April 13, 1998
Designers: Yan Bingwu; Yang Wenqing
Size of stamp: 30*50mm
Perforation: 12
Sheet composition: 16
Printing process: offset
Background
Hainan, located in the southern tip of China, is in the tropical zone. Surrounded by sea, Hainan is full of sunshine, and the weather there is like spring all the year round. Beautiful natural scenery and pleasant living environments make it a world-famous tourist resort, known for sightseeing and winter swimming. The "end of the earth" and "deer turning round" are the two typical scenes attracting every visitor to the island.
The nature has bestowed Hainan with rich natural resources and huge potentials for its development. On April 13, 1998, Hainan Province was founded, becoming China's only special economic zone province. The province covers an area of 34, 000 square kilometres and over 2 million square kilometres of sea area. It is a China's province with the largest sea area. In the past 10 years since the establishment of the province, Hainan has undergone drastic changes. The capital city Haikou has developed from a small town into a modern metropolis with good ecological conditions while the Yangpu Development Zone enjoys transport and complete infrastructure facilities, which are ideal for large-scale investment. A modern container and general cargo port has been built. The Sanya Phoenix international Airport, facing the South China Sea, is Hainan's main airport. The Yalongwan National Tourist Resort, with flat beach, soft sand and proper temperature, is a good place for vacationing.
Share:

Price List
Item location: China
Ships to: Worldwide
*Shipping (via registered air mail) is based on subtotal of order. See detials below.
| | |
| --- | --- |
| Order Subtotal | S & H |
| $0.01---$15.00 | US $5.00 |
| $15.01---$50.00 | US $6.00 |
| $50.01---$100.00 | US $7.00 |
| $100.01---$180.00 | US $8.00 |
| $180.01---over | US $9.00 |
* 1) for special items shipping and handling cost may be included. 2) Other fast shipping is available.
To special order, please
let us know
what you are looking for. We will help you to meet your unique interests.