2005-1, Scott 3418 Year of Cock (2005 Yi-you Year)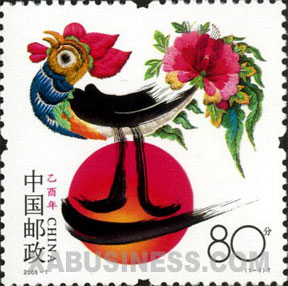 (1-1), Year of Cock (Yi-you Year), 80 fen, 36*36 mm
Technical details
Scott No: 3418
Serial number: 2005-1
Values in set: 1
Denomination: 80 fen
Date of issue: January 5, 2005
Designer: Lui Shengzhong
Size of stamps: 36*36 mm
Perforation: 13
Sheet composition:
24 for Sheet I; 6 for Sheet II
Printing process: Photogravure
Printer: Beijing Postage Stamp Printing House
Background
For the convenience of farming production with clear seasonal changes, China traditionally applied the lunar calendar based on the shape of the moon. The order of years was composed of the ten Heavenly Stems and the Twelve Earthly Branches. The combination of Jia, Yi, Bing, Ding etc. in the ten Heavenly Stems and Zi, Chou, Yin, Mao etc in the Twelve Earthly Branches totals 60 kinds, which are called "60 Jia Zi" meaning a cycle of 60 years. Twelve animals match with the twelve Earthly Branches with each representing one year. 2005 is the year of the cock. Therefore, cock is the symbolic animal for people born in this year.
Share:

Price List
Item location: China
Ships to: Worldwide
*Shipping (via registered air mail) is based on subtotal of order. See detials below.
| | |
| --- | --- |
| Order Subtotal | S & H |
| $0.01---$15.00 | US $7.00 |
| $15.01---$50.00 | US $8.00 |
| $50.01---$100.00 | US $9.00 |
| $100.01---$180.00 | US $10.00 |
| $180.01---over | US $12.00 |
* 1) for special items shipping and handling cost may be included. 2) Other fast shipping is available.
To special order, please
let us know
what you are looking for. We will help you to meet your unique interests.