2004-22, Scott 3390-91 Lacquerware and Pottery(Jointly Issued by China Romania)

(2-1), Drum with Tiger Seat and Bird Frame, 80 fen, 36*36 mm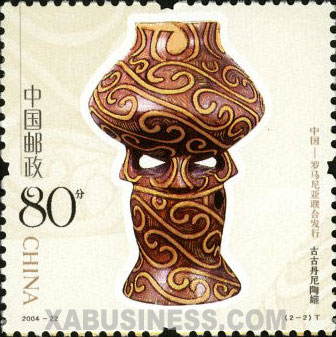 (2-2), Cucuteni Pottery Jar, 80 fen, 36*36 mm
Technical details
Serial number: 2004-22
Value in set: 2
Denomination: 160 fen
Date of issue: September 22, 2004
Designer: Wang Huming and Catalin Ilinca
Size of stamp: 36*36mm
Perforation: 13
Sheet composition:
13 for Sheet I; 8 for Sheet II(4 sets)
Printing process: Gravure
Printer: Beijing Postage Stamp Printing House
Background
The Drum with Tiger Seat and Bird Frame was an important musical instrument of the State of Chu during the Warring States Period.The seat is shaped in a pair of crouching tigers with raised heads and curled tails and facing opposite directions.On the back of each tiger stands a phoenix stretch its neck and singing.With the lifelike shapes of tigers and birds and brilliant colouring,it is a reprsentative work of lacquerware of China from the times before the Qin Dynasty.The Romanian Cucuteni pottery works,of the culture of European BronzeAge,are in various shapes,decorated with spiral patterns,and mostly in white,red and black colours.The picture on the stamp shows a tripod pottery jar,which was a ritual implement.Each of the cultural relics represents the hightest level of handicraft in its country during its own age.
Share:

Price List
Item location: China
Ships to: Worldwide
*Shipping (via registered air mail) is based on subtotal of order. See detials below.
| | |
| --- | --- |
| Order Subtotal | S & H |
| $0.01---$15.00 | US $5.00 |
| $15.01---$50.00 | US $6.00 |
| $50.01---$100.00 | US $7.00 |
| $100.01---$180.00 | US $8.00 |
| $180.01---over | US $9.00 |
* 1) for special items shipping and handling cost may be included. 2) Other fast shipping is available.
To special order, please
let us know
what you are looking for. We will help you to meet your unique interests.