2004-24, Scott 3394-3405 Frontier Scenes of China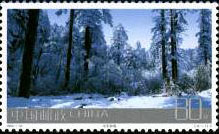 (12-1), Forest of Xing`an Mountains, 80 fen, 50*30 mm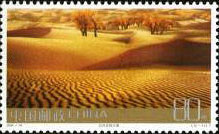 (12-2), Lake in the Yalu River Basin, 80 fen, 50*30 mm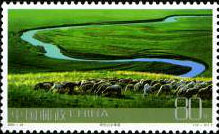 (12-3), Reefs in the Yellow Sea, 80 fen, 50*30 mm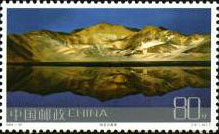 (12-4), Zhoushan Archipelago, 80 fen, 50*30 mm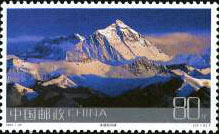 (12-5), Coastline of Taiwan, 80 fen, 50*30 mm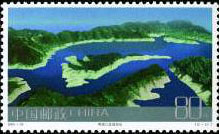 (12-6), Xisha Islands, 80 fen, 50*30 mm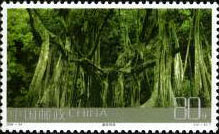 (12-7), Karst Landscape in Southern Guangxi, 80 fen, 50*30 mm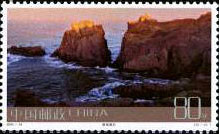 (12-8), Rain Forest in Southern Yunnan, 80 fen, 50*30 mm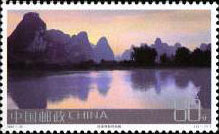 (12-9), Mount Qomolangma, 80 fen, 50*30 mm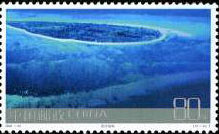 (12-10), The Pamirs, 80 fen, 50*30 mm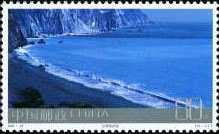 (12-11), Badain Jaran Desert, 80 fen, 50*30 mm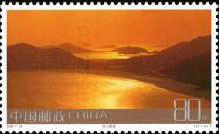 (12-12), Hulun Buir Steppe, 80 fen, 50*30 mm
Technical details
Serial number: 2004-24
Valuesin set: 12
Denomination: 960 fen
Date of issue: October 1, 2004
Designer: Hao Xudong
Size of stamp: 50*30mm
Perforation: 13*12.5
Sheet composition: 8
Printing process: Gravure
Printer: Beijing Postage Stamp Printing House
Background
With a vast territory and territorial sea,China has a 20,000km-long border and a continental coastline of 18,000km.Covering a land area of 9.6 million square kilometres from the Pamirs in central Asia to the western part of the Pacific,from the central line of the Heilongjiang River in the cold temperate zone to the Zengmu Shoal clos to the equator,China has six neighboring countries across the sea,and borders 15 countries.All of the five flundamental topographies can be found in China.China's frontiers boast unique topographic features and diversified scenery,which are displayed in this set of stamps.It is the first time that the frontier scenes has been selected as pictures on stamps.
Share:

Price List
Item location: China
Ships to: Worldwide
*Shipping (via registered air mail) is based on subtotal of order. See detials below.
| | |
| --- | --- |
| Order Subtotal | S & H |
| $0.01---$15.00 | US $5.00 |
| $15.01---$50.00 | US $6.00 |
| $50.01---$100.00 | US $7.00 |
| $100.01---$180.00 | US $8.00 |
| $180.01---over | US $9.00 |
* 1) for special items shipping and handling cost may be included. 2) Other fast shipping is available.
To special order, please
let us know
what you are looking for. We will help you to meet your unique interests.