2004-27 Famous pavilions of China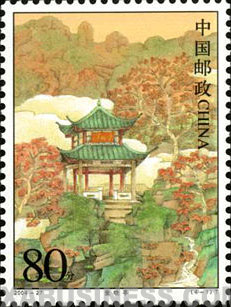 (4-1), Aiwan pavilion, 80 fen, 30*40 mm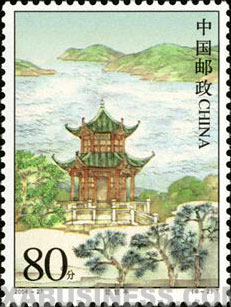 (4-2), Pipa pavilion, 80 fen, 30*40 mm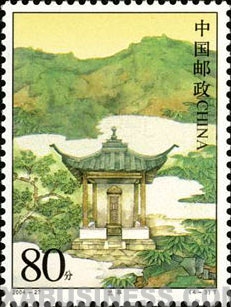 (4-3), Lan pavilion, 80 fen, 30*40 mm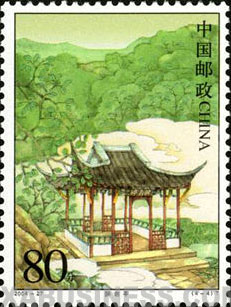 (4-4), Zuiweng pavilion, 80 fen, 30*40 mm
Technical details
Serial number: 2004-27
Values in set: 4
Denomination: 320 fen
Date of issue: November 6, 2004
Designer: Ru Feng
Size of stamp: 30*40mm
Perforation: 13.5*13
Sheet composition:
16 for Sheet I;
8 for Sheet II(2 sets)
Printing process: Gravure
Printer: Beijing Postage Stamp Printing House
Background
Pavilions are often built in gardens or by roadsides for passengers to have a rest or appreciate the surrounding scenery. According to historical records, pavilions were first built in China over a thousand years ago. Those famous ones with long history and graceful structure embody rich cultural content and are appreciated for their poetic beauty. In the stamp pictures, the Aiwan (in Chinese means loving evening) Pavilion in Changsha is named after the verse of "I stop the carriage, loving the maple wood in the evening" by Du Mu; the Pipa Pavilion in Jiujiang first built in the Tang Dynasty was so named to commemorate the "Balled of the Pipa" written by Bai Juyi there; the Orchid Pavilion where the great calligrapher Wang Xizhi wrote the famous "Preface to the Orchid Pavilion Collection" in Shaoxing; the Pavilion of Old Drunkard in Chuzhou was named by Ouyang Xiu, a writer of the Northern Song Dynasty, who wrote the celebrated "The Roadside Hut of the Old Drunkard".
Share:

Price List
Item location: China
Ships to: Worldwide
*Shipping (via registered air mail) is based on subtotal of order. See detials below.
| | |
| --- | --- |
| Order Subtotal | S & H |
| $0.01---$15.00 | US $5.00 |
| $15.01---$50.00 | US $6.00 |
| $50.01---$100.00 | US $7.00 |
| $100.01---$180.00 | US $8.00 |
| $180.01---over | US $9.00 |
* 1) for special items shipping and handling cost may be included. 2) Other fast shipping is available.
To special order, please
let us know
what you are looking for. We will help you to meet your unique interests.