2004-19, Scott 3381-82 South China Tiger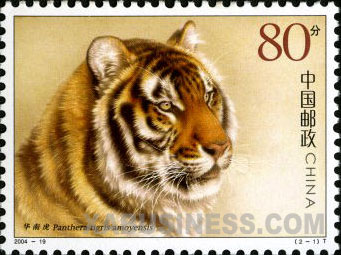 (2-1), South China Tiger, 80 fen, 40*30 mm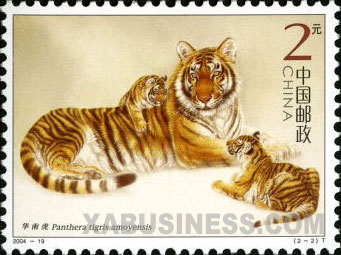 (2-2), South China Tiger, 200 fen, 40*30 mm
Technical details
Scott No: -
Serial number: 2004-19
Values in set: 2
Denomination: 280 fen
Date of issue: August 23, 2004
Designer: Liu Jibiao
Size of stamp: 40*30mm
Perforation: 12
Perforation of S/S: 13
Sheet composition:
12 for Sheet I;
8 (4-sets) for Sheet II
Printing process: offset
Printer: Beijing Postage Stamps Printing House
Background
The South China Tiger, of tiger species of the carnivorous genus Panthera of family Felidae, is a tiger subspecies unique to China. Smaller than the tiger subspecies in size, the South China Tiger has short, brown fur bearing broader black strips. It lives in various environment, mostly forests and mountain areas, alone for the most part, moves around at night, and preys on ungulates such as wild boars. South China Tigers widely ranged in provinces of southern China before the 1960s, but now are at the brink of extinction as a result of human activities and environment changes. This mammal is under National Grade I Protection in China, and has been listed as a species for protection in Appendices I to the Convention on International Trade in Endangered Species of Wild Fauna and Flora.
Share:

Price List
Item location: China
Ships to: Worldwide
*Shipping (via registered air mail) is based on subtotal of order. See detials below.
| | |
| --- | --- |
| Order Subtotal | S & H |
| $0.01---$15.00 | US $4.00 |
| $15.01---$60.00 | US $5.00 |
| $60.01---$100.00 | US $6.00 |
| $100.01---over | US $7.00 |
* 1) for special items shipping and handling cost may be included. 2) Other fast shipping is available.
To special order, please
let us know
what you are looking for. We will help you to meet your unique interests.