2004-20, Scott 3383-84 The 50th Anniversary of the Establishment of the People's Congress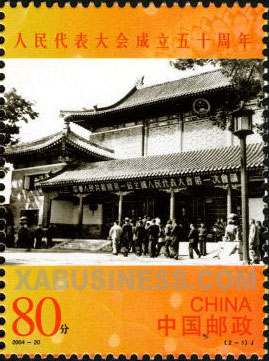 (2-1), The First Plenary Meeting of the National People's Congress was held in the Huairentang Hall of Zhongnanhai, 80 fen, 33*44 mm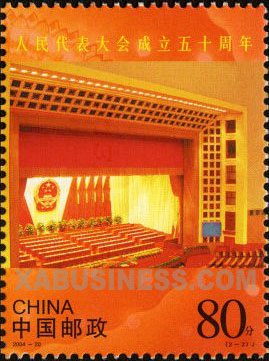 (2-2), The Solemn Platform in the Great Hall of the People, 80 fen, 33*44 mm
Technical details
Scott No: -
Serial number: 2004-20
Values in set: 2
Denomination: 160 fen
Date of issue: September 15, 2004
Designer: Li Xin
Size of stamp: 33*44 mm
Perforation: 13.5*13
Sheet composition:
9 for Sheet I;
6 (3 sets) for Sheet II
Printing process: offset
Printer: Shenyang Post & Telecommunication Printing Works
Background
This year marks the 50th anniversary of the National People's Congress. The Plenary Meeting of the First National People's Congress was held in Beijing on 15th September 1954, representing the establishment of the people's congress system throughout the country. The people's congress is China's fundamental government system, and the National People's Congress is the organ of the biggest state power. The people exercise their power of managing the country through the National People's Congress and the People's Congress at local levels. Experience of the past half century has fully demonstrated that the people's congress system suits China's national situation, and boasts enormous advantage and vitality.
Share:

Price List
Item location: China
Ships to: Worldwide
*Shipping (via registered air mail) is based on subtotal of order. See detials below.
| | |
| --- | --- |
| Order Subtotal | S & H |
| $0.01---$15.00 | US $5.00 |
| $15.01---$50.00 | US $6.00 |
| $50.01---$100.00 | US $7.00 |
| $100.01---$180.00 | US $8.00 |
| $180.01---over | US $9.00 |
* 1) for special items shipping and handling cost may be included. 2) Other fast shipping is available.
To special order, please
let us know
what you are looking for. We will help you to meet your unique interests.