2003-25, Scott 3322-5 The 110th Birth Anniversary of Comrade Mao Zedong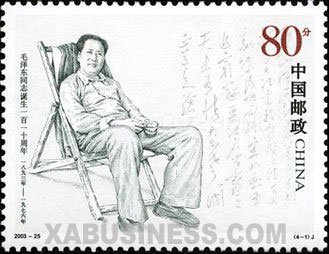 (4-1), Mao Zedong in Xibaipo, 80 fen, 50*38 mm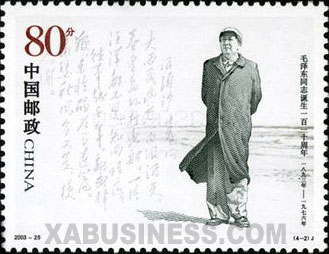 (4-2), Mao Zedong in Beidaihe, 80 fen, 50*38 mm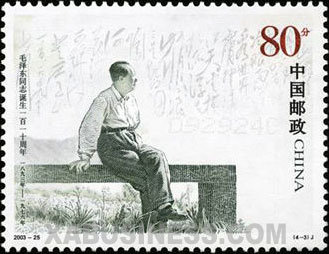 (4-3), Mao Zedong in Lushan Mountain, 80 fen, 50*38 mm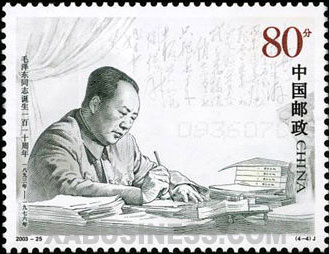 (4-4), Mao Zedong in Guangzhou, 80 fen, 50*38 mm
Technical details
Scott No: 3322-5
Serial number: 2003-25
Values in set: 4
Denomination: 3.20 yuan
Date of issue: 6th December 2003
Designer: Ma Gang
Size of stamps: 50*38 mm
Perforation: 12
Sheet composition:
16 for Sheet I; 8 for Sheet II
Printing process: Offset-engraving
Printer: Henan Post & Telecommunication Printing Works
Background
Mao Zedong (12.26.1893 --- 9.9. 1976), born in Xiangtan, Hunan, is a great Marxist, proletarian revolutionist, strategist and theorist, one of the major founding-fathers and leaders of the Communist Party of China, the People's Liberation Army and the people's Republic of China, and the main creator of Mao Zedong Thought. He made extraordinary contributions to the founding of the new China and its socialist construction. On the occasion of his 110th birth anniversary, let us cherish the memory of the significant contributions of the great leader, and resolve to work hard for the revitalization of the Chinese nation.
Share:

Price List
Item location: China
Ships to: Worldwide
*Shipping (via registered air mail) is based on subtotal of order. See detials below.
| | |
| --- | --- |
| Order Subtotal | S & H |
| $0.01---$15.00 | US $4.00 |
| $15.01---$60.00 | US $5.00 |
| $60.01---$100.00 | US $6.00 |
| $100.01---over | US $7.00 |
* 1) for special items shipping and handling cost may be included. 2) Other fast shipping is available.
To special order, please
let us know
what you are looking for. We will help you to meet your unique interests.