2003-4, Scott 3262-65 Lily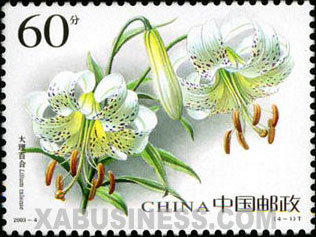 (4-1), Lilium taliense, 60 fen, 40*30 mm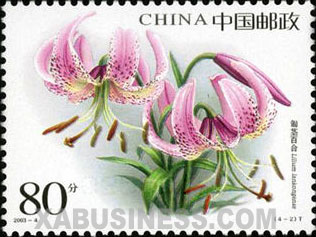 (4-2), Lilium lankongense, 80 fen, 40*30 mm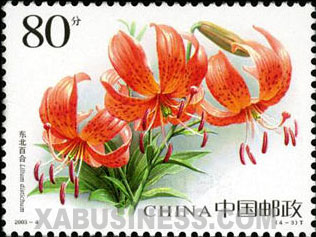 (4-3), Lilium distichum, 80 fen, 40*30 mm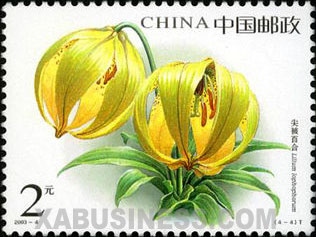 (4-4), Lilium lophophorum, 200 fen, 40*30 mm
Technical details
Scott No: 3262-65
Serial number: 2003-4
Values in set: 4
Souvenir sheet : 1
Denomination: 4.20 yuan
Denomination of S/S : 8 yuan
Date of issue: 5th Mar. 2003
Designer: Zeng Xiaolian and Yang Jiankun
Size of stamps: 40*30 mm
Size of S/S: 140*95 mm
Size of S/S stamp : 76*54 mm
Perforation: 13*13.5
Sheet composition:
20 for sheet I; 10 for Sheet II
Printing process: photogravure
Printer: Beijing Postage Stamp Printing House
Background
The lily, Lilium belonging to Liliaceae, perennial bulbiferous herbs distributed in temperate areas of the northern hemisphere. Among 115 species of the genus found in the world , 55 are endemic to China. Its underground bulb forms by many fleshy scaled imbricated closely, hence lily is called "Baihe" in Chinese (which means a hundred scales packed together). It is regarded as a symbol of unity and friendship. During greeting seasons, people present lily flowers to each other as gifts, expressing their wish of "happiness and harmony in a family for a hundred years". Their large, gorgeous flowers are often funnelform or campanulate in shape, usually white, sometimes red, purple, pink, yellow or greenish in colour. Lily flowers have been famous and precious, but popular since ancient times for their graceful shape and elegant style. It has been chosen to be the national flower in many countries.
Share:

Price List
Item location: China
Ships to: Worldwide
*Shipping (via registered air mail) is based on subtotal of order. See detials below.
| | |
| --- | --- |
| Order Subtotal | S & H |
| $0.01---$15.00 | US $5.00 |
| $15.01---$50.00 | US $6.00 |
| $50.01---$100.00 | US $7.00 |
| $100.01---$180.00 | US $8.00 |
| $180.01---over | US $9.00 |
* 1) for special items shipping and handling cost may be included. 2) Other fast shipping is available.
To special order, please
let us know
what you are looking for. We will help you to meet your unique interests.