2003-5, Scott 3267-70 Ancient Bridges of China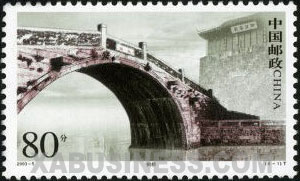 (4-1), the Maple Bridge, 80 fen, 50*30 mm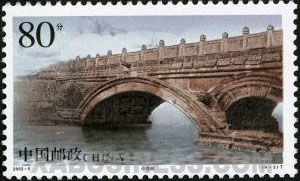 (4-2), the Xiaoshang Bridge, 80 fen, 50*30 mm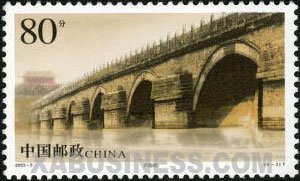 (4-3), the Lugouqiao Bridge, 80 fen, 50*30 mm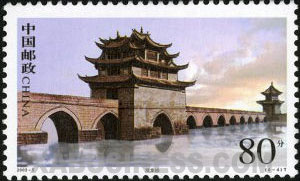 (4-4), the Double Dragon Bridge, 80 fen, 50*30 mm
Technical details
Scott No: 3267-70
Serial number: 2003-5
Values in set: 4
Denomination: 3.20 yuan
Date of issue: 29th Mar. 2003
Designer: Zhang Hongbin
Size of stamps: 50*30 mm
Perforation: 11.5
Sheet composition:
16 for sheet I; 8 for Sheet II
Printing process: photogravure-engraving
Printer: Beijing Postage Stamp Printing House
Background
The four ancient Chinese bridges shown on the stamps are all arch bridges. They are located in Suzhou of Jiangsu, Linying County of Henan, Beijing, and Jianshui County of Yunnan respectively. They embody the intelligence of the ancient Chinese people as well as the Chinese national style. They have witnessed historical tragedies and glories, and are related with historical events and legends. Today, these ancient bridges still retain their original charm. Appearing quite late in the bridge history, the arch bridge became the trend and dominated in bridge development in ancient times. Most ancient bridges in China are stone arch bridges. Their appearance brought in a new era of beidge construction technology in China.
Share:

Price List
Item location: China
Ships to: Worldwide
*Shipping (via registered air mail) is based on subtotal of order. See detials below.
| | |
| --- | --- |
| Order Subtotal | S & H |
| $0.01---$15.00 | US $7.00 |
| $15.01---$50.00 | US $8.00 |
| $50.01---$100.00 | US $9.00 |
| $100.01---$180.00 | US $10.00 |
| $180.01---over | US $12.00 |
* 1) for special items shipping and handling cost may be included. 2) Other fast shipping is available.
To special order, please
let us know
what you are looking for. We will help you to meet your unique interests.