2003-11, Scott 3286 Suzhou Gardens, the Master-of-Nets Garden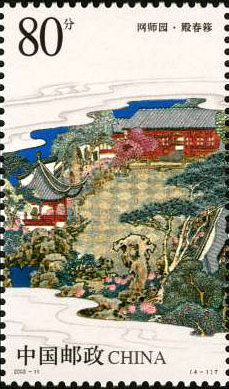 (4-1), late Spring Cottage, 80 fen, 30*50 mm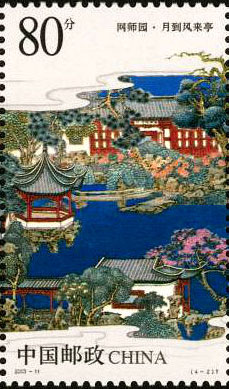 (4-2), Pavilion Greeting the Moon and Breeze, 80 fen, 30*50 mm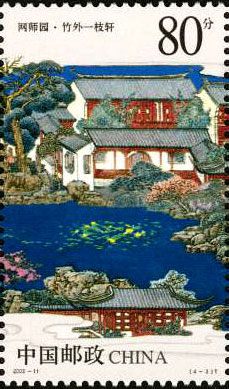 (4-3), Veranda of Bamboo, 80 fen, 30*50 mm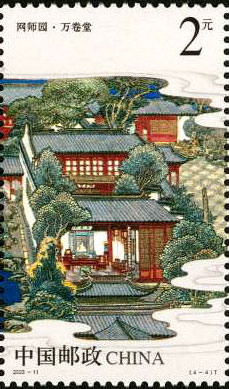 (4-4), Hall of Ten Thousand Volumes, 200 fen, 30*50 mm
Technical details
Scott No: 3286
Serial number: 2003-11
Values in set: 4
Denomination: 4.40 yuan
Date of issue: 29th June 2003
Designer: Lao Si
Size of stamps: 30*50 mm
Perforation: 12.5*13
Sheet composition:
16 for sheet I
8 for Sheet II
Printing process: photogravur
Printer: Beijing Postage Stamp Printing House
Background
The Master-of-Nets Garden is a famed classical Chinese garden on Shiquan Street by Fengmen Gate in Suzhou, Jiangsu Province. It was originally Shi Zhengzhi's Hall of Ten Thousand Volumes during the Southern Song Dynasty, known as "Fisherman's Retreat", and later abandoned. It was reconstructed during the reign of Qianlong of the Qing Dynasty, and renamed the Master-of-Nets Garden to imply "fisherman's retreat". This ancient and well-preserved private garden is divided into residences in the east and a garden in the west. The two parts are harmoniously united to express an integral whole. The wooden buildings, doors, windows, and partition boards were all crafted with great care and artistic flourishes. Every hall has lattices with semi-transparent panes, with artificial hills outside. The pond at the center, surrounded by flowers, trees, artificial hills, rocks and buildings presents the main vista in the garden. The late Spring Cottage in the northwest of the garden, a masterpiece in garden design, is known for its exquisite, graceful courtyard and plain, neat buildings.
Share:

Price List
Item location: China
Ships to: Worldwide
*Shipping (via registered air mail) is based on subtotal of order. See detials below.
| | |
| --- | --- |
| Order Subtotal | S & H |
| $0.01---$15.00 | US $5.00 |
| $15.01---$50.00 | US $6.00 |
| $50.01---$100.00 | US $7.00 |
| $100.01---$180.00 | US $8.00 |
| $180.01---over | US $9.00 |
* 1) for special items shipping and handling cost may be included. 2) Other fast shipping is available.
To special order, please
let us know
what you are looking for. We will help you to meet your unique interests.