2003-17, Scott 3305-7 Yue Fei, a Famous Ancient General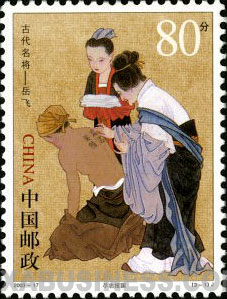 (3-1), Loyalty to the Country, 80 fen, 30*40 mm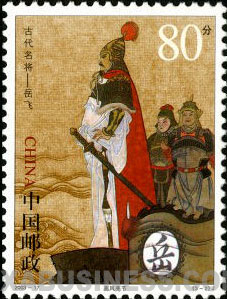 (3-2), Unyielding Integrity, 80 fen, 30*40 mm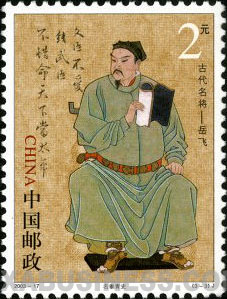 (3-3), Remembered Forever, 200 fen, 30*40 mm
Technical details
Scott No: 3305-7
Serial number: 2003-17
Values in set: 3
Denomination: 3.60 yuan
Date of issue: 25th September 2003
Designer: Meng Fancong
Size of stamps: 30*40 mm
Perforation: 12
Sheet composition:
20 for Sheet I
9 for Sheet II
Printing process: offset
Printer: Shenyang Post & Telecommunication Printing Works
Background
Yue Fei (1103 - 1142), alias Pengju, was a famous general of the Southern Song Dynasty. Born in a farmer's family in Tangyin, Xiangzhou Prefecture (today's Henan Province), he was diligent and eager to learn when he was young. Being adept in Kung Fu skills, he volunteered to join the army in the first year of Jingkang's Reign. It is said that before he left home, his mother tattooed "Loyalty to the Country" on his back, which was the principle he followed till the end of his life. As he was concerned about his men and set a personal example before them, his troops were highly disciplined and valiant and skillful in battle. During the war against the invading Jin army, he gained one after another victories and recovered lost territories, winning high esteem among the army and the people, and even arousing the admiration of the enemy. Later he was framed by the treacherous minister Qin Hui and executed in Lin'an (today's Hangzhou) on trumped-up charges. He has been and will always be respected and admired by posterity for his unyielding integrity.
Share:

Price List
Item location: China
Ships to: Worldwide
*Shipping (via registered air mail) is based on subtotal of order. See detials below.
| | |
| --- | --- |
| Order Subtotal | S & H |
| $0.01---$15.00 | US $5.00 |
| $15.01---$50.00 | US $6.00 |
| $50.01---$100.00 | US $7.00 |
| $100.01---$180.00 | US $8.00 |
| $180.01---over | US $9.00 |
* 1) for special items shipping and handling cost may be included. 2) Other fast shipping is available.
To special order, please
let us know
what you are looking for. We will help you to meet your unique interests.