2003-26, Scott 3326-33 Bronze Wares of the Eastern Zhou Dynasty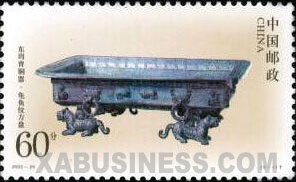 (8-1), Square Plate with Turtle and Fish Patterns, 60 fen, 50*30 mm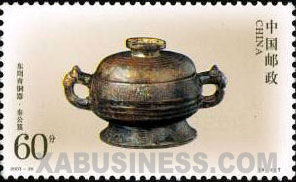 (8-2), Gui of the Duke of Qin, 60 fen, 50*30 mm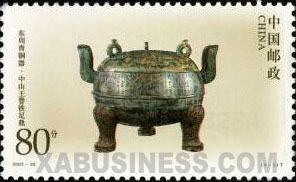 (8-3), Iron-footed Tripod of the King of Zhongshan, 80 fen, 50*30 mm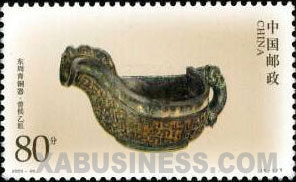 (8-4), Gourd-shaped Ladle of Yi the Marquis of Zeng, 80 fen, 50*30 mm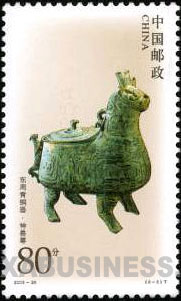 (8-5), Divine Animal Wine Vessel, 80 fen, 30*50 mm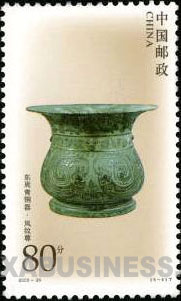 (8-6), Wine Vessel with Phoenix Pattern, 80 fen, 30*50 mm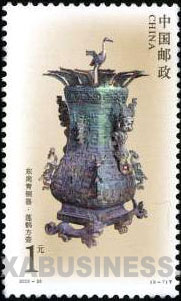 (8-7), Square Pot with the Design of Lotus and Cranes, 100 fen, 30*50 mm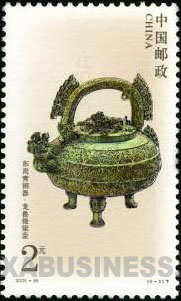 (8-8), Bronze Tripod with a Dragon-shaped Handle, 200 fen, 30*50 mm
Technical details
Scott No: 3326-33
Serial number: 2003-26
Values in set: 8
Denomination: 7.40 yuan
Date of issue: 13th December 2003
Designer: Wang Xu
Size of stamps:
50*30 mm for Values 1,2,3,4 ;
30*50 mm for Values 5,6,7,8 ;
Perforation: 11.5
Sheet composition:
16 for Sheet I; 8 for Sheet II
Printing process: Photogravure-engraving
Printer: Beijing Postage Stamp Printing House
Background
Smelting and production of bronze wares in China started in the Xia Dynasty (c.2100 BC --- c.1600 BC), and developed into a complete system in the Shang and Zhou Dynasties. In the Zhou Dynasty, with the decline of the imperial power, the function of bronze wares lessened as representation of the emperor's rituals and the social estate system. The states made sacrificial vessels by themselves such as the traditional ding (tripod) and gui (round-mouthed food vessel), and newly invented bronze wares like zun (wine vessel), fou (percussion instrument) and he (a tripod vessel) with a loop handle. The bronze wares were engraved with beautiful, exquisite patterns usually of winding, intertwined dragon and snakes. The inscriptions on them are often records of the dukes' and senior officials' use or records of marriages. During this period, sacrificial bronze wares in diversified styles and forms flourished in different areas of China, representing a peak in the history of bronze development.
Share:

Price List
Item location: China
Ships to: Worldwide
*Shipping (via registered air mail) is based on subtotal of order. See detials below.
| | |
| --- | --- |
| Order Subtotal | S & H |
| $0.01---$15.00 | US $4.00 |
| $15.01---$60.00 | US $5.00 |
| $60.01---$100.00 | US $6.00 |
| $100.01---over | US $7.00 |
* 1) for special items shipping and handling cost may be included. 2) Other fast shipping is available.
To special order, please
let us know
what you are looking for. We will help you to meet your unique interests.