2000-13, Scott 3042-43 Pottery ( Joint issue with Kazakhstan )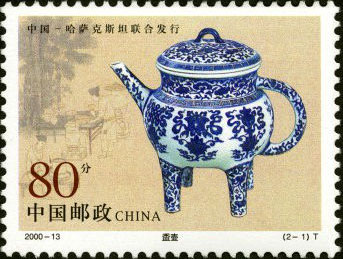 (2-1), He Pot, 80 fen, 40*30 mm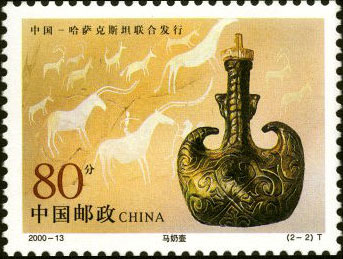 (2-2), Horse Milk Pot, 280 fen, 40*30 mm
Technical details
Scott No: 3042-43
Serial number: 2000-13
Values in set: 2
Denomination: 1.60 yuan
Date of issue: June 28, 2000
Designer: Wang Huming
Size of stamps: 40*30 mm
Perforation: 12.5
Sheet composition: 20
Printing process: offset
Printer: Beijing Postage Stamp Printing House
Background
He-pot is an ancient Chinese wine vessel. During the Shang Dynasty, it was made of copper and was in common use. The he-pot on the stamp is of blue and white porcelain,made in Jingdezhen, in imitation of an ancient bronze ware during the reign of Emperor Qianlong in the Qing Dysnaty. The patterns consist of a traditional auspicious design and lotus flowers. This vessel is now in the collection of the Tibet Museum. Horse milk pots are the Kazak people's folk leather handicraft, uesd for storing horse milk.Usually decorated with traditional Kazak-style patterns.,they have been favorite utensils among the Kazak people since ancient times. Only those of the finest quality are collected by the State Museum.This set of stamps symbolizes the enduring friendship between the Chinese and Kazak peoples.
Share:

Price List
Item location: China
Ships to: Worldwide
*Shipping (via registered air mail) is based on subtotal of order. See detials below.
| | |
| --- | --- |
| Order Subtotal | S & H |
| $0.01---$15.00 | US $5.00 |
| $15.01---$50.00 | US $6.00 |
| $50.01---$100.00 | US $7.00 |
| $100.01---$180.00 | US $8.00 |
| $180.01---over | US $9.00 |
* 1) for special items shipping and handling cost may be included. 2) Other fast shipping is available.
To special order, please
let us know
what you are looking for. We will help you to meet your unique interests.