2000-14, Scott 3044-47 Laoshan Mountains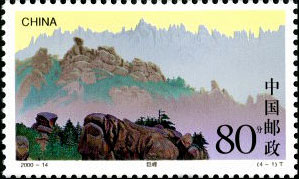 (4-1), Huge Peak, 80 fen, 50*30 mm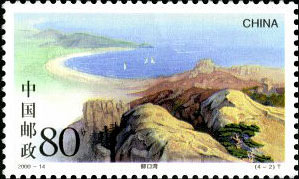 (4-2), Yangkou Bay, 80 fen, 50*30 mm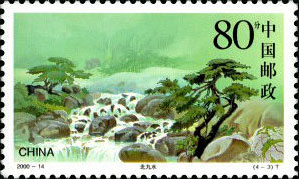 (4-3), Beijiu Lake, 80 fen, 50*30 mm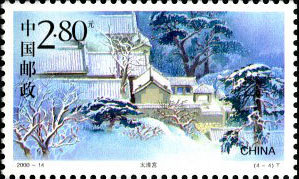 (4-4), Taiqing Palace, 280 fen, 50*30 mm
Technical details
Scott No: 3044-47
Date of issue: July 15, 2000
Serial Number: 2000-14
Price for the miniature sheet: 8 RMB
Standard of stamp: 50*30 mm
Standard of the sheet: 153*82 mm
Perforation: 12
Process: offset
Designer: Yang Wenqing
Designer of FDC and postmark: Tian Zhan'ao
Factory: Beijing Stamp Factory
Background
Laoshan Mountain is situated by the Yellow Sea, east of Qingdao City, Shandong Province. Huge Peak, the main peak of the mountain, is 1, 100 meters above sea level. The mountain area is quiet and noted for its beauty. The spring water flows out from between rocks and drops down of three tiers. World-famous Laoshan Mineral Water comes from this region. Apart from being known for its beautiful natural scenery, Laoshan is famous as one of Taoism's sacred mountains in China. During the Song and Yuan dynasties, many temples were built on the mountain and were once houses of the immortals. There are many scenic spots such as Shangqing and Xiaqing palaces. Laoshan is a destination for many foreign and domestic tourists.
Share:

Price List
Item location: China
Ships to: Worldwide
*Shipping (via registered air mail) is based on subtotal of order. See detials below.
| | |
| --- | --- |
| Order Subtotal | S & H |
| $0.01---$15.00 | US $4.00 |
| $15.01---$60.00 | US $5.00 |
| $60.01---$100.00 | US $6.00 |
| $100.01---over | US $7.00 |
* 1) for special items shipping and handling cost may be included. 2) Other fast shipping is available.
To special order, please
let us know
what you are looking for. We will help you to meet your unique interests.