2000-15, Scott 3049 Small Carp Leap Through Dragon Gate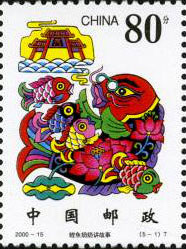 (5-1), Grandma Carp Tells a Story, 80 fen, 30*40mm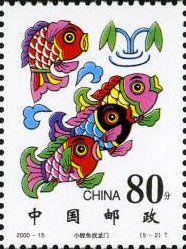 (5-2), Small Carp Look for Dragon Gate, 80 fen, 30*40mm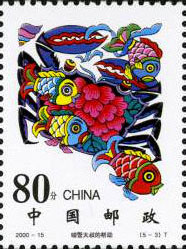 (5-3), Help from Uncle Crab, 80 fen, 30*40mm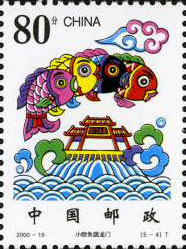 (5-4), Small Carp Leap Through Dragon Gate, 80 fen, 30*40mm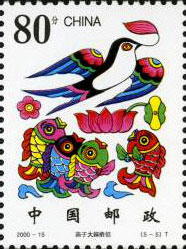 (5-5), Aunt Swallow Passes On a Letter, 80 fen, 30*40mm
Technical details
Scott No: 3049
Serial nmuber: 2000-15
Perforation: 12
Sheets: 25
Value: 4.00 Yuan
Date of issue: August 8, 2000
Designer of FDC and stamp: Gong Lin and Luan Weili
Standard of stamp: 30*40 mm
Standard of booklet: 137*64 mm
Value of booklet: 4 RMB
Designer of booklet: Wang Huming
Factory: Beijing Stamp Printing Factory
Background
In ancient China there was a legend about carp leaping through Dragon Gate. Modern story-tellers and artists have created a children's story under the same title. The story tells of a group of brave carp, who, after listening to Grandma Carp's telling this story, look for Dragon Gate. Their search takes them through stormy waters and they encounter various dangers but they learn much through their struggle. Through tenacity and joint efforts, they finally leap into an ideal land where they discover beautiful scenery and become the happiest carp in the world.
Share:

Price List
Item location: China
Ships to: Worldwide
*Shipping (via registered air mail) is based on subtotal of order. See detials below.
| | |
| --- | --- |
| Order Subtotal | S & H |
| $0.01---$15.00 | US $4.00 |
| $15.01---$60.00 | US $5.00 |
| $60.01---$100.00 | US $6.00 |
| $100.01---over | US $7.00 |
* 1) for special items shipping and handling cost may be included. 2) Other fast shipping is available.
To special order, please
let us know
what you are looking for. We will help you to meet your unique interests.