1997-5, Scott 2756-59 Tea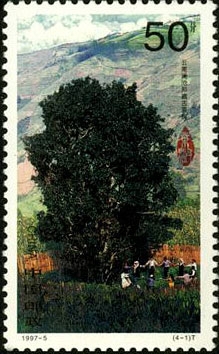 (4-1), Tea Tree, 50 fen, 30*50mm
Technical details
Scott No: 2756-59
Serial number: 1997-5
Values in set: 4
Date of issue: April 8, 1997
Designers: Ren Yu
Size:
30*50mm for Value 1 and 2
50*30mm for Value 3 and 4
Perforation: 12
Sheet composition: 40
Printing process: offset
Background
China is the first country in the world which has discovered, planted and made use of the tea. Legend has it that Shen Nong, a legendary ruler who introduced agriculture and medicine, was poisoned by 72 kinds of poisonous herbs in one day when he was tasting hundreds of herbs, but was cured by tea. "Literary Expositor", and ancient book written 350 BC also mentioned tea and its planting. China is internationally acknowledged as having nearly 4,000 years of history of planting tea.
Tea was originally planted in Sichuan. After the Qin Empire conquered the State of Shu, tea was extensively planted else-where. In the Qin and Han dynasties, people used tea as medicine, and later as a drink to clear away heat and toxic material. Hua Tuo of the Three Kingdoms said in his "On Food" that drinking bitter tea was beneficial to health. At present, commodity tea is generally divided into six kinds: green tea, such as Dragon Well, Biluochun, Zhenmei, Zhucha and Huangshan Maofeng; yellow tea, which is covered tightly and turns yellow in the course of processing, such as Junshan Yinzhen and Mengding Huangya; black tea, which turns black after being piled, such as Hubei Laoqingcha and Hunan Black Tea; white tea, which is in thin pieces and not fried, such as Baihao Yinzhen and Gongmei; Qingcha tea, which is a semi-fermented tea, and has the mellow taste of black tea and fragrance of green tea, such as Wuyiyan Tea and Wulong Tea; black tea, a fully-fermented tea, such as Qimen Black Tea. It is estimated that half of the world's population drink tea. The etiquette of drinking tea has been introduced to Japan where it integrated the preaching of Zen and became the Tea Ceremony involving religion, art , moral, philosophy, personal cultivation and social etiquette.
According to the statistics, China's tea output has increased from 41,000 tons in 1949 to 590,000 tons in 1996. China Ranked third in the world in terms of output in 1949, and has ranked second since 1978.
Share:

Price List
Item location: China
Ships to: Worldwide
*Shipping (via registered air mail) is based on subtotal of order. See detials below.
| | |
| --- | --- |
| Order Subtotal | S & H |
| $0.01---$15.00 | US $5.00 |
| $15.01---$50.00 | US $6.00 |
| $50.01---$100.00 | US $7.00 |
| $100.01---$180.00 | US $8.00 |
| $180.01---over | US $9.00 |
* 1) for special items shipping and handling cost may be included. 2) Other fast shipping is available.
To special order, please
let us know
what you are looking for. We will help you to meet your unique interests.