J107, Scott 1967-68 50th Anniversary of Zunyi Meeting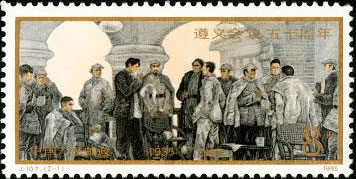 (2-1), Zunyi Meeting, 8 fen, 60*30 mm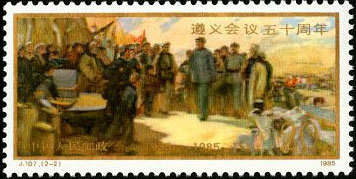 (2-2), Red Army arrived in Shanbei, 20 fen, 60*30 mm
Technical details
Scott No: 1967-68
Serial number: J107
Values in set: 2
Date of issue: January 15, 1985
Denomination: 28 fen
Designers: Chen Xiaocun
Size of stamps: 60*30mm
Perforation: 11*11.5
Sheet composition: 30(3*10)
Printing process: Engraving and photogravure
Printing House: Beijing Postage Stamp Printing Works
Background
Zunyi City is located in the northern part of Guizhou Province. Owing to the wrong leadership of Wang Ming's "Left"adventurism, the Red Army sustained constantly great losses at the outset of the Long March, In this desperate moment , Mao Zedong advocated that the Red Army should change its original operations and march towards Guizhou Province taken by the weak-forced Kuomintang reactionaries. On January 7,1935 the Red Army occupied Zunyi where the Political Bureau of the Central Committee of the Chinese Communist Party convened an enlarged meeting from January 15 to 17,1935. It put an end to the wrong military domination of Wang Ming's "Left"adventurism and established the leadership of the correct line represented by Mao Zedong in the new Central Committee of the Party.
The Zunyi Meeting that the Communist Party of China for the first time applied independently the basic principles of Marxism-Leninism to the settlement of its own line and policy, saved the Party and the Red Army from the imminent danger. It was vital turning point in the history of the Party.
Share:

Price List
Item location: China
Ships to: Worldwide
*Shipping (via registered air mail) is based on subtotal of order. See detials below.
| | |
| --- | --- |
| Order Subtotal | S & H |
| $0.01---$15.00 | US $5.00 |
| $15.01---$50.00 | US $6.00 |
| $50.01---$100.00 | US $7.00 |
| $100.01---$180.00 | US $8.00 |
| $180.01---over | US $9.00 |
* 1) for special items shipping and handling cost may be included. 2) Other fast shipping is available.
To special order, please
let us know
what you are looking for. We will help you to meet your unique interests.