T104, Scott 1969-72 Festive Lantern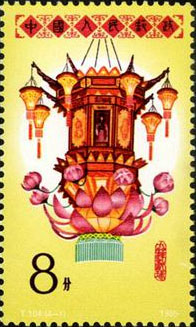 (4-1), Festive Lantern, 8 fen, 31*52 mm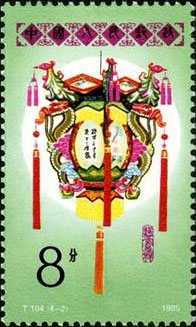 (4-2), Festive Lantern, 8 fen, 31*52 mm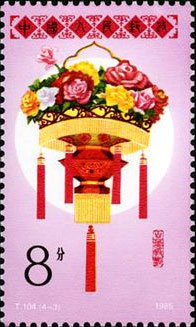 (4-3), Festive Lantern, 8 fen, 31*52 mm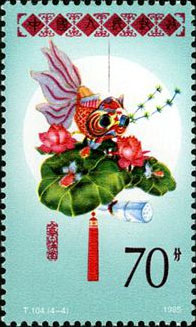 (4-4), Festive Lantern, 70 fen, 31*52 mm
Technical details
Scott No: 1969-1972
Serial number: T104
Values in set: 4
Date of issue: Febuary 28, 1985
Denomination: 94 fen
Designers: Zou Jianjun
Size of stamps: 31*52mm
Perforation: 11.5
Sheet composition: 40(10*4)
Printing process: Photogravure
Printing House: Beijing Postage Stamp Printing Works
Background
The Lantern Festival (also called Yuanxiao Festival) is on the 15th day of the first Chinese lunar month. It is closely related to Spring Festival. Yuan literally means first, while Xiao refers to night. Yuanxiao is the first time when we see the full moon in the new year. It is traditionally a time for family reunion. The displaying of lanterns is a big event on that day, all the people will play the Festive Lantern, another important part of the Festival is eating small dumpling balls made of glutinous rice flour. We call these balls Yuanxiao.
Share:

Price List
Item location: China
Ships to: Worldwide
*Shipping (via registered air mail) is based on subtotal of order. See detials below.
| | |
| --- | --- |
| Order Subtotal | S & H |
| $0.01---$15.00 | US $4.00 |
| $15.01---$60.00 | US $5.00 |
| $60.01---$100.00 | US $6.00 |
| $100.01---over | US $7.00 |
* 1) for special items shipping and handling cost may be included. 2) Other fast shipping is available.
To special order, please
let us know
what you are looking for. We will help you to meet your unique interests.