2004-5, Scott 3346-9 Stories of Idioms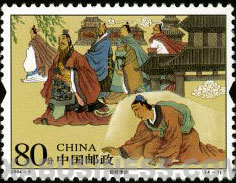 (4-1), Trying to Learn the Handan Walk, 80 fen, 40*30 mm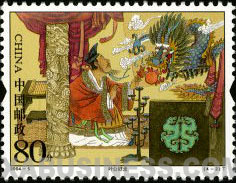 (4-2), Lord Ye's Love for Dragon, 80 fen, 40*30 mm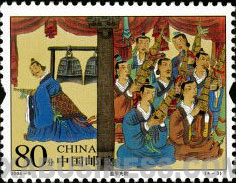 (4-3), Filling a Position in Yu Band, 80 fen, 40*30 mm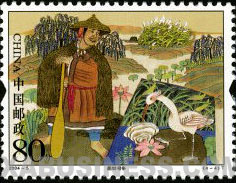 (4-4), When the Snipe and the Clam Grapple, 80 fen, 40*30 mm
Technical details
Scott No: 3346-9
Serial number: 2004-5
Values in set: 4
Denomination: 3.20 yuan
Date of issue: 2nd April 2004
Designer: Li Yongqing and Li Guozhu
Size of stamps: 40*30 mm
Perforation: 12.5*13.5
Sheet composition:
20 for Sheet I; 8 for Sheet II (se-tenant)
Printing process: gravure
Printer: Beijing Postage Stamp Printing House
Background
The idiom "Trying to learn the Handan Walk" originated from a story about a native of the State of Yan who went to Handan to learn the walk manner of the people of the State of Zhao, only to forget his own manner of walk, and had to crawl back home. The expression is used to ridicule those imitating others blindly. According to the story of "Lord Ye's Love for Dragon", Lord Ye was fond of dragons and had his house decorated with their images. But when a real dragon came to visit him, he was scared out of his wits. It is used to indicate professed but false enthusiasm. "Filling a Position in a Yu Band" came from a story about a Mr. Nanguo who was not able to play the yu but make up a number in the band playing for King Xuan of the Qi state. King Xuan's successor, King Min, preferred solos of the yu, and Mr. Nanguo had to sneak sway. The expression is used to ridicule those with no real talent. In the story of "When the snipe and the Clam Grapple", the snipe pecked the flesh of the calm and the latter clamped its beak. A fisherman too the opportunity and caught them both. It is used to describe the situation where a third party benefits from the fight between two parties.
Share:

Price List
Item location: China
Ships to: Worldwide
*Shipping (via registered air mail) is based on subtotal of order. See detials below.
| | |
| --- | --- |
| Order Subtotal | S & H |
| $0.01---$15.00 | US $5.00 |
| $15.01---$50.00 | US $6.00 |
| $50.01---$100.00 | US $7.00 |
| $100.01---$180.00 | US $8.00 |
| $180.01---over | US $9.00 |
* 1) for special items shipping and handling cost may be included. 2) Other fast shipping is available.
To special order, please
let us know
what you are looking for. We will help you to meet your unique interests.