2004-8, Scott 3354-7 The Danxia Mountain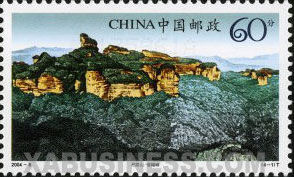 (4-1), Sengmao Peak, 80 fen, 50*30 mm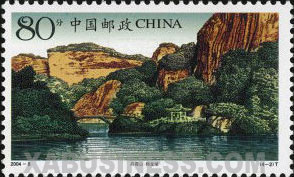 (4-2), Xianglong Lake, 80 fen, 50*30 mm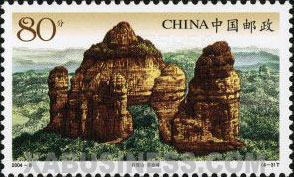 (4-3), Chahu Peak, 80 fen, 50*30 mm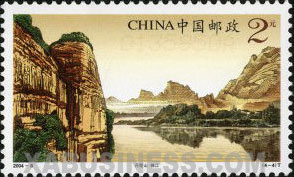 (4-4), Jinjiang River, 200 fen, 50*30 mm
Technical details
Scott No: 3354-7
Serial number: 2004-8
Values in set: 4
Denomination: 4.20 yuan
Date of issue: May 1, 2004
Designer: Guo Chenghui
Size of stamps: 50*30 mm
Perforation: 12
Sheet composition: 16
Printing process: offset-engraving
Printer: Henan Post & Telecommunication Printing Works
Background
The Danxia Mountain, located to the south of Renhua County in Guangdong Province, is known as one of the Most Famous Mountains of Guangdong, along with the Luofu, Siqiao, and Dinghu mountains. It got its name from its red sandy rock that gives it a brilliant colour like that of red clouds ("Danxia" in Chinese means "red cloud"). The mountain is a typical example of the "Danxia Landform" in geography. The Baozhu, Hailuo and Zhanglao peaks rise high in a forest of precipitous peaks, and the Jinjiang River meanders around them. The water of the river is so clear that one can see the colourful pebbles o the riverbed. Among the scenic attractions in the mountain are the rocks Haishan Gate, Yixiantian, Sky Ladder, and caves and rocks of various shapes. The Danxia Mountain, beautiful with its red rock and green waters, was put on UNESCO"s first list of World Geological Parks in February 2004.
Share:

Price List
Item location: China
Ships to: Worldwide
*Shipping (via registered air mail) is based on subtotal of order. See detials below.
| | |
| --- | --- |
| Order Subtotal | S & H |
| $0.01---$15.00 | US $5.00 |
| $15.01---$50.00 | US $6.00 |
| $50.01---$100.00 | US $7.00 |
| $100.01---$180.00 | US $8.00 |
| $180.01---over | US $9.00 |
* 1) for special items shipping and handling cost may be included. 2) Other fast shipping is available.
To special order, please
let us know
what you are looking for. We will help you to meet your unique interests.